Georgia and Asian Development Bank to Focus on Regional Projects
By Tea Mariamidze
Friday, April 20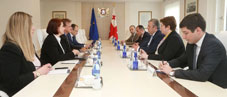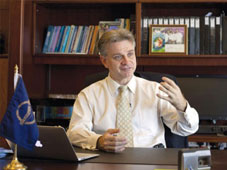 The Asian Development Bank (ADB) will focus on regional cooperation projects along with Georgia.
The information was released by the Prime Minister of Georgia Giorgi Kvirikashvili at the governmental session on April 19.
"In this case, "regional" refers to our country's neighborhood, along with the countries of Central Asia, other Asian regions, and the Gulf States," the PM explained.
He added the emphasis is placed on the effect of each dollar or euro spent in terms of attracting investments from the private sector.
"In other words, greater emphasis will be placed on the development of the private sector, importantly on the development of green economy, alternative energy sources, which is also important to our country, also on the fulfillment of our international obligations related to the UN SDGs," said Kvirikashvili and thanked the Asian Development Bank and its local office for excellent cooperation.
Kvirikashvili met with the new Director General for its Central and West Asia Department - Werner Liepach in Tbilisi on Wednesday.
Positive economic dynamics stemming from the Georgian Government's correct and consistent policy, success in the implementation of the four-point reform agenda, and the Asian Development Bank's support for Georgia were the key issues of the meeting.
Werner Liepach emphasized ADB's strong and growing partnership with Georgia and confirmed ADB's commitment to continue its support for Georgia's economic development. According to him, Georgia is a vital corridor connecting Europe and Asia, and the infrastructural projects implemented in the country with ADB's support have proved exceptionally successful.
While discussing future plans, special attention was paid to the importance of the Kvesheti-Kobi project also implemented with ADB's support.
Moreover, Georgia's Ministry of Regional Department reports that the Asian Development Bank plans to increase investments in Georgia.
"ADB will be involved in the development of the country's transit and tourism potential. It will fund the construction works of a 24 km long road, Kvesheti-Kobi road section, which is the part of the Mtskheta-Stepantsminda-Larsi road.
The issue was discussed at the meeting held today between Maia Tskitishvili, Minister of Regional Development and Infrastructure of Georgia, First Deputy Minister, Yesim Elhan-Kayalar, Asian Development Bank (ADB) Country Director for Georgia, and Werner Liepach, ADB Director General of Central and West Asia Department.
The meeting participants also talked about the current large-scale water supply and sewerage projects, funded by ADB, which are being implemented in 13 cities of Georgia.
The Asian Development Bank is one of Georgia's major development partners that has supported the implementation of $2.4 billion worth of projects in both public and private sectors.