Black PR or a Mistake
By Vladimer Napetvaridze
Friday, April 20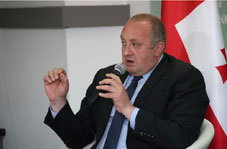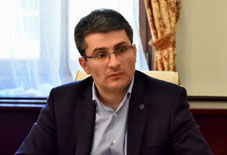 The President of Georgia Giorgi Margvelashvili,in response to the criticism of his presidential pardon cases, stated that black PR was used against him, which "started in a disgusting way and ended poorly". Giorgi Margvelashvili thinks that in future, this kind of activities will be used many times against him:
"We started consultations to improve a presidential pardon law and we will do it, but our society once again has seen the disgusting start and the poor end of another wave of black PR against me, and unfortunately, there will be more," Giorgi Margvelashvili said.
On April 19, Mamuka Mdinaradze, the chairman of the faction "Georgian Dream" responded to the president's statement. According to Mdinaradze, the pardoned prisoners who were convicted for a serious offense have been repeatedly committing serious offenses after being pardoned by the president.
When the president speaks about the black PR against him, he should understand that it could not be otherwise, since he has pardoned thousands of persons convicted for a serious offense and hard crime, and over 500 of them have been repeatedly committing crimes. Processes of pardoning should to be improved", said Mdinaradze.
Controversies over pardoned prisoners and their crimes have been resumed a few weeks ago when one of the pardoned prisoners killed a 25-year-old woman.
In 2012, the Prime Minister of Georgia at the time- Bidzina Ivanishvili talked about the topic of pardoning prisoners and possible consequences of the processes: This [amnesty] will increase crime rates at some stages for a certain period of time. The society must treat the situation with understanding and must tolerate it. There are so many people in prison who deserve to be pardoned, but some of them will choose an old way of life, and in this case, we have police to help it and I believe that this is a healthy and natural process and the society must understand it," stated Bidzina Ivanishvili who was the leader of Georgian Dream and the Prime Minister of Georgia in 2012.
The picture has altered since then- the representatives of the ruling party do not ask the society to understand and tolerate the crimes committed by the pardoned prisoners, but they are accusing a particular politician for this, in this case the president, who has the clemency rights.
Reasons for such changes in the opinion about pardoning should be explored. One of the causes may be level of offenses that the pardoned prisoners have repeatedly committed after their clemency. Margvelashvili's transformation from a team member to a political opponent could have influenced the situation as well.
Pardoning the prisoners who commit crimes again is a mistake, but blaming only Margvelashvili on a clemency system failure includes an element of negative PR.
There will be the presidential elections held in Georgia in a few months. It is not known whether Margvelashvili will participate in the elections. It is not also clear who will be nominated as a candidate of Georgian Dream, but it is certain it won't be Giorgi Margvelashvili.