Workers Protest
By Levan Khutsishvili
Monday, April 23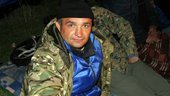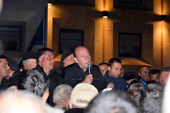 On April 18 the workers of Agara Sugar Factory started a demonstration from Agara and walked 110 km to Tbilisi. They demand the opening of Agara Sugar Factory opens, whichwas closed 7 months ago.
The Workers and representatives of the trade unions organized a protest rally in front of the Government Chancellery building. They demanded to meet with the representatives of Government. However, only the Business ombudsman Irakli Lekvianidze arrived. He spoke with the workers and representatives of trade unions. They agreed the negotiations will continue, some aspects will be clarified and the factory will start working within next 2 months.
According to Lekvinadze, a bank credit for 80 people will be rescheduled to the nearest future, and once the factory reopens, 500 employees of "AgaraSugar" will resume their work.
"It is a fact that the factory will continue working but in order to make final decisions some very important issues have been raised: what should the state or company do to prevent the non-profitability of the factory. Now this meeting has ended with sharing suggestions. Before beginning of the week, some details are to be determined, how much longer the period of support in certain topics can be extended. The factory will start working in around 1.5 to 2 months," said Lekvinadze.
After meeting with Lekvianidze, the protest was stopped and the workers are hoping that government will keep the promises this time, as they have been protesting in vain.
"This decision [coming in Tbilisi] was made because of the extreme hardship in our families. The family, is on the verge of hunger. We have no other solution. We spent 48 days in snow and cold and asked for employment and support from the state, but there was no reply. On the contrary, we arrived to the parliament and met with Kakulia and Mdinaradze, they promised to help but this process was stopped somewhere. In the end, everyone left us. That is why we have decided to show everyone that we really are in a very difficult situation and we took this step. We decided to go closer to their cabinets and tell them about our hardship there. There are very powerful specialists in government mostly from business so they should explain how we could live in our village without jobs. Nothing works in our village, no shops or anything. The shops are closed because of the loans," says Badri Eliashvili, who worked for Agara Sugar Factory for 20 years.
Workers from Agara have organized several protest rallies. Marching from Agara to Tbilisi was a powerful message to the decision makers, telling them that workers will protect their rights.