Lithuanian FM Says Georgia will Dispel all Doubts on Visa Free
By Gvantsa Gabekhadze
Wednesday, April 25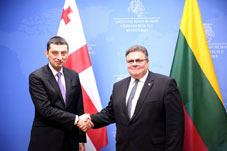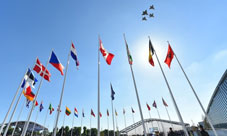 (VILNIUS)--The Lithuanian Foreign Minister Linus Linkevicius "hopes and believes" that Georgia will dispel all existing doubts over the Georgia-EU visa free deal, triggered after the illegal stay of Georgians in EU member countries.
"Despite some problems, we believe this will happen. We see Georgia's progress and advancement in many fields. The success is obvious within the Eastern Partnership program as well," The foreign minister told Georgia's Interior Minister Giorgi Gakharia on Tuesday.
Gakharia spoke about the changes the Georgian Dream government had initiated to prevent the illegal flow of Georgians to the EU member states, with the help of the Georgia-EU visa waiver obtained in March last year.
Gakharia thanked the Lithuanian government for their support to Georgia's Euro-Atlantic integration and the territorial integrity of Georgia.
In March this year the government of Georgia stated that "tough measures" would be introduced to prevent Georgians' illegal stay in the Schengen Zone.
One of the new regulations adopted will make it easy for the government to identify those who violate visa free travel rules.
Under the new regulations, changing a surname is allowed only once with few exceptions, including when taking spouse's surname for marriage or changing one's surname back after divorce.
Previously an individual could change his/her surname for 25 times for various reasons .
The Georgian government also intends on making an individual pay his/her readmission expenses if he/she violates the 90-day –period of the legal stay in the Schengen Zone.