Tbilisi Mayor Offers Destruction of Garages for New Green Areas
By Tea Mariamidze
Thursday, April 26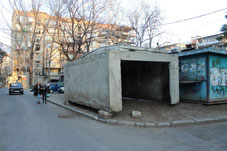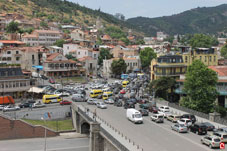 Tbilisi Mayor Kakha Kaladze says there are serious ecological problems in the capital and calls on the population to make the city greener.
Kaladze initiated to remove garages near the blocks of flats and arrange parks, squares and stadiums at these areas.
The mayor says if Tbilisi residents approve his initiative, the City hall will cover all expenses.
Kaladze called on the City Council (Sakrebulo) representatives to speak to the population and learn about their opinion regarding the initiative.
"I would like to ask you to communicate with the locals and if they want, we are ready to build squares, gardens and sports grounds on the places of the garages. All the expenses will be covered by Tbilisi City Hall," the mayor told Sakrebulo MPs.
He added that this project can improve ecological situation in the capital.
In March the mayor stated that it is very important to tighten the construction permission in Tbilisi and pay more attention to the development of recreational spaces.
As a result, 500 constructions were warned for the violation of safety norms, 272 constructions were fined and 120 construction projects were suspended.
Kaladze added that the era of "chaotic" constructions in the capital is over, adding the development companies will need to present a special plan that envisages planting trees and arranging recreational spaces, in order to get construction permits.
Georgia's Prime Minister Giorgi Kvirikashvili also approved stricter construction regulations.
"It will enable us to have more recreational space and make our capital even more beautiful, what is important for everyone," the PM stated earlier this spring.