Tbilisi Metro Workers to Go on Strike over Low Salaries
By Tea Mariamidze
Friday, April 27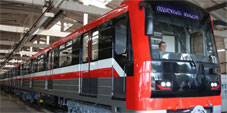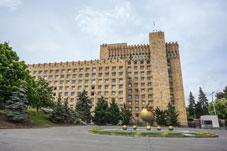 Tbilisi metro employees are asking for higher salaries, saying if their demands are not met until May 1, they will go on strike.
The information was released by the independent trade union Unity 2013, which unites around 250 people, employed in Tbilisi metro system.
Rati Kapanadze, the driver of Tbilisi metro and chair of the Union 2013, stated that a meeting was held between the workers and Tbilisi City Hall on April 25, but no agreement was reached.
"At the meeting we raised the issue of increasing our current average salary 1038 GEL to 1500 GEL. They told us that it is impossible for now, as there is no additional money in Tbilisi budget," Kapanadze explained, however, added that they will get the exact answer on Tuesday.
The Chair of the trade union says the workers hope their demands will be satisfied, stressing if no compromise is made, they will definitely go on strike.
"If no steps forward is taken, we will move on strike. Three days earlier we will name the particular day when the metro will stop working. We are not talking about the protest of drivers only, Unity 2013 unites other employees of the metro as well," stated Kapanadze.
Unity 2013 started legal dispute at the court in March 2016, asking for improved labor and safety conditions and increased salaries but they didn't win the case.
The drivers of metro claim their salaries have not changed since 2013 ,adding their the payment is inconsistent with environmental conditions, working cycle or the responsibilities they have to face every day.
On 2nd April, metro workers addressed the Minister of Labor, Health and Social Affairs, demanding the appointment of a mediator, which resulted into the mediation process. However, despite reaching agreement on several issues, the employees say nothing has changed for them.
The government of Georgia has not made any official statements regarding the issue yet.