Number of Russian Occupation Victims Increases in Georgia's Breakaway Regions
By Levan Khutsishvili
Friday, April 27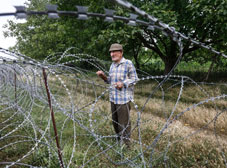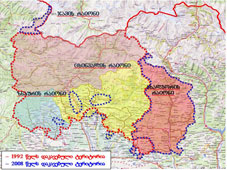 On April 26, Russian occupants illegally detained and kidnapped Georgian citizen Sergo Darbaidze from the village of Kveshi, Gori municipality for "illegal crossing of the border".
Occupant forces from Georgia's breakaway Tskhinvali detained 50 year-old Georgian shepherd and took him to the military base in the village of Arcevi and then to the Tskhinvali isolator. The similar happened couple of days ago when 77 year old shepherd was kidnapped by the "border guards".
According to the official data of the State Security Service of Georgia (SSS), in the period from January 1st to April 11, 2018, Russian occupants kidnapped 16 Georgian citizens in breakaway Abkhazia and 19 in Tskhinvali region for "Illegal crossing of the border". As for the data of 2017, according to State Security Service of Georgia, 52 Georgians were illegally detained while crossing the so-called "border" in occupied Abkhazia while 126 people were detained in Tskhinvali.
The creeping occupation gets worse every year.
According to the official information of the SSS, before the 2008 Russian-Georgian war, the central government of Georgia was controlling 103 villages in Didi Liakhvi, Patara Liakhvi, Prone Gorge and Akhalgori district (except Ossetian villages of so called Tsinagara zone). After the 2008 war, all these villages fell under the Russian occupation forces.
The creeping occupation became active in 2011 and by 2012, the occupation line had covered other villages (32 villages). Total length of the occupation line is more than 350 km in the occupied Tskhinvali region. In addition, the Russian occupation forces have installed fences across the occupation line of 52 kilometers in length. In 2017, occupants have cut around 10 hectare land from the Georgian territory by moving the occupation border line with 800 meter into the Georgia-controlled land.
The reality is that the "border line" is 350 meter far from the central highway, part of the Baku-Supsa pipeline and the private property of local population is under the occupants' control. And occupation continues, number of kidnaped Georgian citizens in region is increasing, although the government states that they are doing everything to ensure maximum security of the country and protection of human rights and for this purpose IPRM meetings are held nearly every month. In addition, the "hotline" mechanism is operating within 24 hours, which promotes transparency of information between the parties and regulating the incidents in the occupied region in the shortest possible time.
The fact is that the efforts are not efficient and Russia is still actively violating Georgia's sovereignty and territorial integrity, recognized by the whole international community, except 4 countries, including Russia.