US Assistant Secretary Says Georgia Achieved Economic Progress
By Tea Mariamidze
Tuesday, May 1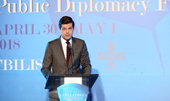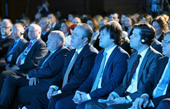 The United States Assistant Secretary of State, Wess Mitchell stated that Georgia has achieved strong economic growth and created jobs during the recent years.
Mitchel made the statement while delivering speech at NATO-Georgia Public Diplomacy Forum, held on April 30-May 1 in Tbilisi.
He praised the government's 4-point plan which refers new tax benefits, infrastructure plans, governance reforms and an overhaul of the education system.
"I am going to support his team with large-scale programs for economic engagement and assistance," said the US Assistant Secretary of State.
Wess Mitchell stated that the US Secretary of State, Mike Pompeo underscored that the US supports Georgia's integration with NATO and the EU.
"NATO's door remains open for all European democracies that share NATO values and contribute to our common security," he said.
According to the US Assistant Secretary of State, Georgia is a strong symbol of freedom, adding it can choose its future itself.
"This year we celebrate the 10th anniversary of the NATO Bucharest Summit declaration, according to which, Georgia will become a NATO member. Alliance strongly supports this declaration. President Trump supports the Bucharest Summit Declaration of 2008 and calls on the members of NATO to fulfill their commitment," he added.
Wess Mitchell also condemned occupation of Georgian territories.
"We urge Russia to repeal the recognition of Abkhazia and Tskhinvali as independent states and ensure free humanitarian access to these regions," he said.
NATO-Georgia Public Diplomacy Forum has been underway in Georgia for the third time. It was opened by Georgia's Vice-Premier and Minister of Foreign Affairs, Mikheil Janelidze, who talked about Georgia's Euro-Atlantic aspirations and current challenges that NATO faces, including Anti-Western propaganda and misinformation.
"Georgia's NATO membership is supported by the majority of the population, but open and hidden anti-Western propaganda and anti-NATO campaign are aimed at increasing distrust and nihilism in the society," he said, adding Georgia has never been so close to NATO as it is today.
Georgian President Giorgi Margvelashvili and the Prime Minister Giorgi Kvirikashvili also addressed the forum participants.
The NATO-Georgia Public Diplomacy Forum provides an opportunity for public diplomacy and communication professionals from all over the continent to come together to develop strategies, share the best practices and actions required to effectively respond to new challenges facing the allies and partners.
This event also draws attention to the needs of the countries in the region and enables them develop robust strategies and measures together with NATO member states.