Minister: Only Georgia Has Free Trade Agreement with EU, China in Region
By Tea Mariamidze
Friday, May 4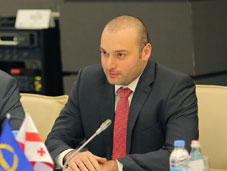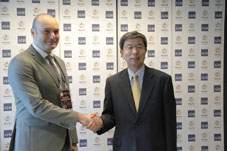 Finance Minister Mamuka Bakhtadze stated that Georgia is the only country in the region with the free trade agreement with the European Union and China.
The minister made the statement at Manila, Central Asia Regional Economic Cooperation (CAREC) annual meeting held on the sidelines of the 51st Annual Meeting of Asian Development Bank (ADB).
He said Georgia is involved in all regional projects.
"This is a very interesting market. However, we need to better integrate this region into the world economy. In my opinion, this should be the main goal. Of course, Georgia and the South Caucasus region can play a major role in this. Georgia is the only country in the region, which has a free trade regime with both the EU and China," he stated.
Bakhtadze said that building of a joint border point with Azerbaijan was one of the issues discussed at the meeting.
"I would like to emphasize the importance of the private sector involvement, since the economic model will not be effective without the private sector. In this regard, the experience of Asian Development Bank is important," he added.
Moreover, the minister thanked Asian Development Bank for implementing private public partnership in Georgia.
"The region needs more sustainable development. This requires development of small and medium enterprises. Creation of synergy between CAREC and BRI initiatives is important and we should use it. Georgia is very willing to do this in the near future. We will be happy to share our experiences with our colleagues," the Finance Minister said.
Within the framework of the CAREC, Bakhtadze met President of Asian Development Bank, Takehiko Nakao and discussed the issues of successful cooperation between Georgia and the ADB.
The minister assessed the meeting as very fruitful, saying ADB is one of the largest donor organizations for Georgian economy.
"About $250 million is invested annually in the infrastructure of Georgia through the bank. We discussed the possibility of growth of ADB portfolio in Georgia in order to enable funding of more infrastructural projects in the country. We welcome the fact that the ADB participates in other reforms of Georgia, including Capital Market Development Reform, Pension and Education Reforms," he added.
As of today, the amount of funding allocated by ADB to Georgia is estimated at $2.4 billion.
Georgia has been a member of the Asian Development Bank since 2007.