Unknown Drug Attacks Tbilisi
By Vladimer Napetvaridze
Tuesday, May 8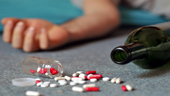 Over the past week, more than 10 drug-related deaths have been reported in Tbilisi. The symptoms in all cases were the same. All the victims died asleep. As relatives of the deceased stated, after return from the nightclub, they did not feel bad, but they didn't not wake up.
The recent deaths have caused concern of the society. Different governmental and non-governmental organizations made special announcements calling on everyone to refrain from using club drugs.
The organization "White Noise Movement", which is actively fighting for lightening the drug policy in Georgia, responded to these facts in the social network and noted that it could be a deliberate diversion against drug users:
"We have an alarming situation in the country. The government stays silent and avoids responsibility. On the black market, there are drugs that kill our citizens. We have reasonable suspicions that it was planned deliberately. Two more young people have died after drug consumption. The government is responsible for each death, because it does nothing to change the situation, doesn't even react to this alarming situation. We urge all drug users to stop using any kind of drugs. We assume that all other narcotic drugs are contaminated by unknown substances," read the statement of the White Noise Movement.
The MP and member of the Georgian Dream Eka Beselia commented on the drug overdose facts, stated that the situation is really alarming: "We should ring the alarm- in the last days we hear tragic stories. This must be signal for all those people who use drugs. Moreover, there is an information about spreading unknown substances that have never been used before. In any case, it is very dangerous for life. Naturally, in this regard, it is necessary to tighten the control. We are working intensively to develop drug policies because, on the other hand, we see such dangerous manifestations that require immediate reaction and prevention," Beselia stated.
According to Georgian legislation, using any type of drugs is illegal and a person can be sentenced from 8 to 20 years of prison for possession of drugs. Georgian drug policy is one of the strictest in comparison with European countries. Different NGOs and public groups demand liberalization of the legislation.
A large part of the society has a negative attitude towards mitigating drug policy, and consequently, the reform of state drug policy can cost the government losing political points. On the other hand, the state cannot punish all the drug-users. Current policy of the Government is useless since it refuses to change strict legislation and uses a weak control mechanism against "club drugs".