First Electric Buses Appear in Tbilisi
By Gvantsa Gabekhadze
Wednesday, May 9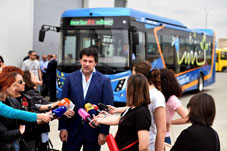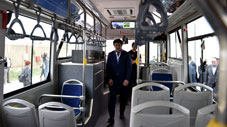 First electric buses appeared in Georgia's capital Tbilisi on Tuesday, which served passengers in testing regime for a while.
The electric buses have 35 seats and they were introduced by Freego Bus company.
The company, with Chinese ZTE Corporation and German EURABUS, plans to produce electric buses in Georgia
Tbilisi Mayor Kakha Kaladze promised that over the next few years more electric buses will be set to work in Tbilisi.
"Today we introduced one electric bus, which we want to test drive on different routes over the next month. This will help us know how to arrange infrastructure in the future", Kaladze said.
"Developed countries are going to switch to electric buses starting from [about] 2023. Tbilisi will not be an exception. We will import more electric buses in the coming years. We are also working on building a factory for producing buses", he added.
Charging electric buses takes about three hours which enables the bus to drive 250 km.
At the first stage, the new electric bus will begin on route 61 and 88, which travels through Tbilisi's two central streets – Rustaveli Ave and Chavchavadze Ave.
As of today, 530 buses take passengers daily in Tbilisi.
As Tbilisi City Hall claims this number of busses is not enough for the city, so Tbilisi City Hall is going to add 700 new buses during the next four years, of which 100 will be introduced this year.
Moreover, Tbilisi City Hall intends to add new trains and wagons for Tbilisi Metro.
The total cost of the project is ˆ800,000 of which ˆ500,000 is a European Union grant and the remaining ˆ300,000 will come from Tbilisi City Hall financing.