Georgian Judokas Accuse Federation President of Misusing Funds
By Tea Mariamidze
Monday, May 14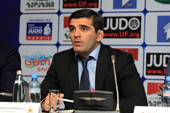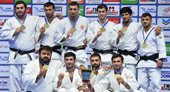 Georgian National Judo Team members accuse the current President of the Federation, Davit Kevkhishvili of misuse of funds, saying the coaches used to return 10% of their salaries and bonuses back to the federation.
The sportsmen believe it is unfair and demand explanations from the president.
The captain of the team, judoka Varlam Liparteliani told journalists that Kevkhishvili assured the coaches the returned funds would be spent on the federation.
"This is unfair and raises many questions as well," Liparteliani added.
Coach Levan Tsigriashvili says he would return 200 GEL from his 700 GEL monthly salary back to the federation fund every month.
"I have no idea what was this money spent on. There are other coaches, who also returned some money from the salary," he explains.
Davit Kevkhishvili says it is the system of the federation when some coaches get salaries, they return a part of it and the other coaches get it. He says every operation is recorded on the Federation's bank account and can be checked if necessary.
"The federation used to be like a mediator between the coaches, when some received high salaries, they would return some to the federation fund and we would pay the other coaches," the Federation President says.
Deputy Sports Committee Chair of the parliament, Shota Khabareli says after such allegations it is necessary the Audit Office studied the Judo Federation funds and reveal the truth.
Khabareli says that the other fields should be discussed by the special commission, created at the Ministry of Culture and Sports.
Georgian national team started boycotting the federation president on May 4. They are refusing to train or participate in international competitions until the current president of the federation holds the post. The sportsmen claim Kevkhishvili fails to perform his duties and misuses the federation funds.
On May 10, an extraordinary congress of the federation was held in order to discuss the current developments, however, no agreement was reached.
According to judokas, they raised some acute issues at the meeting but no one paid attention to them after which they left the congress as a sign of protest.