Police Raids in Nightclubs- Common Practice or Excessive Force?
By Vladimer Napetvaridze
Monday, May 14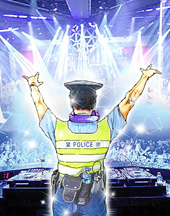 On 12 may, Georgian police raided two leading clubs in Tbilisi. The heavy-handed tactics of the police caused an outcry among huge part of Georgian youngsters who organized protest rally with demand for resignation of the Prime Minister Giorgi Kvirikashvili and the Interior Minister Giorgi Gakharia.
As the chairman of the Georgian Parliament Irakli Kobakhidze stated, this kind of antidrug raids are common practise in the world and the part of anti-drug policy: "This is the common practice - when there is information about possible spreading of life-threatening drugs in a specific club, in that case, police can take an action to prevent this. Law must be law for everyone. This is a very important principle and it is necessary to cooperate with law enforcement agencies to ensure that the law is protected," stated Kobakhidze in his interview with TV Imedi.
As for the police raids in nightclubs, this is a frequent phenomenon in different countries of the world, which always causes dissatisfaction of people. In recent years, within the framework of anti-drug policy, there have been numerous police raids in many countries:
February 2017, the UK. - three men have been arrested after police carried out drugs raids on the two Vauxhall nightclubs. Officers stormed both Fire and Lightbox, near Vauxhall station, during the early hours of last Friday morning to search party-goers and staff. One 30-year-old member of staff was arrested at Lightbox on suspicion of possession of Class A drugs. Another person, also 30, was arrested on suspicion of possession of Class A drugs and of breaching a court order. The third man, 28, was arrested at the same venue on suspicion of handling stolen goods. The operation followed tip-offs that drugs were being sold inside the venues.
August 2017, Russia - Police raid Moscow nightclub. Russian police raided a Moscow nightclub on Sunday, August 6 — policemen equipped with body Armor entered the club wielding batons and clubbed several staff members as well. Police reportedly took 18 persons into custody. Two of the detained were charged for drug offenses.
May 2017, Malaysia - Police arrested almost 200 people in raids at two nightclubs in Kuala Lumpur. The raids took place on Friday night with teams from both the city police and state army. About 564 people were screened and 191 out of them were detained. 38 foreigners, including 33 from China, three from Vietnam and two from Thailand, who were working as GROs were also arrested," he said in the statement on Saturday. Police also seized small amounts of marijuana, ecstasy, ketamine and other "club drugs".
October 2017, Ukraine- Police officers broke into the night club, in the framework of an anti-drug activity. Police brutally beat clients regardless of whether they were suspects or not, eyewitnesses to the incident say.
July 2016, Spain- Spanish police raided Ibiza club "Amnesia" in response to "crimes against the Treasury which saw the arrest of owner Martin Ferrer and three other men, reports Diario de Ibiza. After two subsequent days of raids, authorities find evidence of tax fraud and arrested the club owner.
According to the facts provided, Kobakhidze's statement, about the common practice of police raids in nightclubs, is correct, but to use special forces and violate the majority of party-goers, regardless they are suspects of crime or not, is not an ordinary fact, at least this is not a common practice in the EU countries.