Gov't to Build Flats for People Affected by Construction Cooperatives
By Tea Mariamidze
Thursday, May 17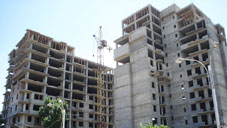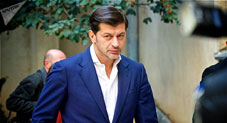 Tbilisi City Hall has allocated 16 hectares of state land, where the flats will be built for people who were affected by construction cooperatives.
The information was released by Tbilisi Mayor Kakha Kaladze on May 16, who said that there are around 3000 affected families, who paid by the construction cooperatives for flats but did not get them.
"Since the 90s, these families have been affected by construction cooperatives. They paid for the cost of housing, but the state has not been able to build these apartments and this debt is recognized," Kakadze said, adding some families have been waiting for flats for 20-25 years already.
He added that the majority of lands, where the state had to build flats for these people, had been privatized during the United National Movement government.
Kaladze added that at the initial stage, around 800 families will get flats, which will be built on the territory allocated by the Mayor's Office.
According to the Mayor, the City Hall has elaborated the system, which initially envisages granting of flats to the flats to the socially vulnerable people, who have the lowest rating scores.
"Part of the families, who do not have rating scores can apply to the Ministry of Health in order to get them," Kaladze added.
The Mayor also noted that 30 million GEL will be allocated from the state budget for the implementation of infrastructure projects in Tbilisi planned for 2019-2020.
As reported, emphasis will be made on sport infrastructure development in Tbilisi.
"This money was meant for infrastructure projects, planned for the next two years but we have the opportunity to use it this year. This sum will be spent on construction of sport complexes mainly," the Mayor added.