Ombudsman Addresses Interior Ministry to React to Actions of the Neo-Nazi Groups
By Levan Khutsishvili
Thursday, May 17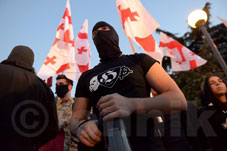 On May 15, 2018, Public Defender released a statement and called law enforcement agencies to react on violent actions taken by the participants of the rally organized by the "Georgian March" and other neo-Nazi groups on May 13, against the rally organized by the "White Noise Movement".
"It was reported that the members of the counter-protest were threatening marchers from "Our Freedom" rally by violent statements, physical violence and other violent actions. Also, information about physical confrontation and threats to the Rustavi 2 operator was spread. At the same time representatives of the Neo-Nazi Group spread information that they are launching the Civil Guard Troops.
"We are launching the Civil Guard Troops to protect our homeland. The agenda should not be dictated by drug dealers and LGBT people. The agenda should be provided by us," said Giorgi Chelidze, member of the Neo- Nazi Group.
The Public Defender explains that assembly and manifestation is guaranteed by the constitution, but this right is not unlimited. When manifestation promotes violence, stirrings up national, religious or social hazards and creates a clear and real chance of their implementation, the government can terminate the assembly and manifestation if it is unlawful. When expressing any form of protest, it is necessary that the actions of other persons do not harm other people's rights, threaten other people's lives, health and property. In the present case, the actions of the above-mentioned counter-protest participants exceeded the scope of freedom of assembly and expression, as well as the signs of various crimes can be seen.
Even though the police created cordons, which led to a minimum risk of physical confrontation, the counter-ptotest participants were repeatedly trying to break the cordon. Also, part of the protesters violated the police cordon and said they intended to disperse the rally. One of the videos shows how one of the participants of the Neo-Nazi group is beating a woman. Other facts of violence have also been reported.
The Public Defender calls on the Ministry of Internal Affairs of Georgia to timely identify all possible criminal acts during the counter-protest of May 13 and conduct an effective investigation to identify the offenders and impose appropriate liability on them, as well as inform the public about the progress of the investigation stages. At the same time, it is necessary to assess the possible risks before every gathering of Neo - Nazi groups and to take appropriate measures to prevent criminal and violent actions, " – is said in the statement of Public Defender.
"Georgian March" was created in 2017. Since then, it has been actively fighting against emigrants and sexual minorities in Georgia. Together with other Neo – Nazi groups Georgian March has been organizing different rallies, mostly using hate-speech and aggressive methods. Members of the Neo – Nazi groups were arrested several times, but 12-13 May rally showed that Neo-Nazi movement is becoming stronger, and it can create serious threat to democratic values of the Georgian society.