Radical Groups Influence Georgian Societal Agenda
By Levan Khutsishvili
Monday, May 21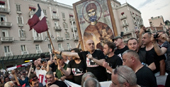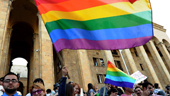 In the evening on May 16, the "Equality Movement" released a statement on the cancellation of the rally planned in front of the Chancellery of the Government on May 17. "Equality Movement" and LGBT community explain the decision: "It is known that on May 17th of this year unprecedented mobilization has been announced by the groups who are against our rally, including Georgian Patriarchate and fascist groups who are connected to the Russian Special Forces. We have a reasonable doubt that these forces are preparing unprecedented mobilization on May 17 this year to arrange a riot and civil confrontation in the city. Even though we have tried to plan all our activities at different location and time than the ultra-right groups rally, it became known that they changed time and location and their activities are planned at the same time and location as ours. Taking into consideration the recent developments, general tensions and positions in society, our rally can enhance disorder and civil contradiction and it is a
threat that bring devastating consequences to our country. From the recent past, in the 90s, we remember consequences of fostering xenophobia and enmity in society. We have already seen our country in civil war. That's why, realizing all current and real threats, we, LGBT activists have made the hardest, joint and consolidated decision, to give up our freedom of expression this time, refuse to use our constitutional rights and cancel the demonstration of May 17 in front of the Chancellery, in order not to give the interested parties opportunities to arrange disorder and confrontation ", is said in the statement posted by Equality Movement.
The statement refers to the recent large-scale rally organized by White Noise Movement after the special operation of Minister of Internal Affairs in two Georgian night clubs. Special operation took place late at night on May 12 with the purpose to detain drug dealers and the intrude by the police in the clubs was recognized by the youth as an act against their right of free expression. The two-days rally stopped after meeting with the Minister of Internal Affairs. Organizers of the rally said that there was a serious threat of confrontation with participants of the counter-protest organized by the ultra-right, neo – Nazi groups, and it became the main reason for cancelling the demonstration.
According to these two cases, it is clear that ultra-right movement groups enjoy an important influence on the agenda of Georgian Society. Radical methods they use, involving threats about physical confrontation, is a powerful tool that can limit constitutional rights of some groups and individuals. On May 15, Public Defender released a statement and asked government to investigate possible violations from the neo-Nazi groups during the 12-13 May demonstrations. Some of the participants were caught by the police at the rally and leaders of the "Georgian March" as well as other ultra-right groups were interrogated after the Public Defender's statement. However, the government still has no strategy or a vision on how to deal with the growing Nazi powers, who create a base for division in the society, preventing it from democratic developments.