Club Raided by Police for Drugs Reopens
By Gvantsa Gabekhadze
Friday, May 25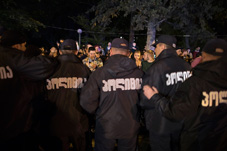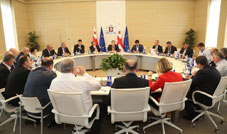 Bassiani, one of the most popular clubs in Georgia, re-opened on Wednesday after being sealed by police since the anti-drug raid on May 12.
The representatives of the Ministry of Internal Affairs of Georgia were presented at the venue and removed the seal from its doors.
"We encourage promotion of relaxation, the night economy in the country, in the city, to support the development of small and medium-sized businesses - restaurants and bars," Tbilisi Mayor Kakha Kaladze told reporters when commenting about the re-open.
"I welcome the fact that the club Basiani will continue to work. The club has never faced a threat of closure. The government has not made such a statement," the mayor added.
Police raided two nightclubs - Bassiani and Cafe Gallery - in Central Tbilisi at 12:30 a.m. of May 12. During and before the raid police detained eight alleged drug dealers. One of the detainees was a club guard.
The detainees have been charged for possession and sale of drugs in especially large quantities, which is punishable by 8-20 years in prison. They are now in pre-trial detention.
The same day, on May 12, large-scale rallies kicked off in front of the parliament building in Tbilisi with the slogan "For Our Freedom," protesting the raid in nightclubs, accusing the police of using excessive force and demanding amendments to the state drug policy. They also demanded the resignation of the prime minister and the interior minister.
Nationalists groups organized a counter-rally on Rustaveli Avenue on May 13, which tensed the situation.
Late on May 13 the Georgian Prime Minister Giorgi Kvirikashvili addressed the protesters and called on the police to increase measures for ensuring the safety of them at Rustaveli Avenue.
The same night Interior Minister Giorgi Gakharia arrived at the rally and offered an apology if any law enforcer created a safety threat to any individual during and after the raid.
However, he called on the protesters to also ask pardon from police employees if they also acted inappropriately. The minister stated that the ministry will work with protesters over the country's new drug policy and announced the meeting on the next day.
Protesters stated that they will renew rallies if the government fails to keep its promise and take no genuine steps for decriminalization of drug consumption.
The Georgian Parliament Speaker Irakli Kobakhidze stated that a draft on drug policy will be prepared until the end of June.
Talks over the liberal drug policy for drug consumers have been launched between the Interior Ministry and the White Noise Movement, lobbying the liberal drug policy. As of now the protesters are not happy with the outcomes of the meetings. However, talks still continue.
Many of the Georgian Dream majority members have negative views over the liberal drug-policy, which makes it difficult for such a draft to be adopted, as the party has 116 members in the 150-member legislative body.