Second Annual US-Georgia Strategic Partnership Conference
By Vladimer Napetvaridze
Friday, May 25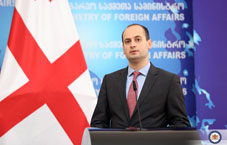 Vice Premier of Georgia, Minister of Foreign Affairs Mikhail Janelidze participated in the second annual conference of Georgia-US Strategic Partnership, dedicated to the 100th anniversary of the Democratic Republic of Georgia.
In his speech, the Minister talked about Georgia's first democratic republic as one of the first democratic states in Europe. He also talked about Georgia's development process after regaining the independence in 1991 and emphasized the importance of Georgia for the modern world. Janelidze also underlined the special efforts of the United States to support Georgia's democratic development after the regaining of independence.
"We are proud that Georgia is a US strategic partner and the major ally in the region. From the aid recipient country, we have become aid contributor state. We are contributing to Euro-Atlantic security, and with our economic development, we offer the opportunities to European businesses and companies. We are playing an important role in maintaining the security and diversification of Euro-Atlantic energy sources," Janelidze said.
The Minister also spoke about Georgia's Euro-Atlantic integration process and stressed the importance of US support in this regard. He said that today Georgia has all necessary tools for joining NATO and the role of the US in this process is major.
"We are very encouraged by the statement of Secretary of State Pompeo made a few days ago. Georgia will become a member of NATO, we have all necessary tools that will lead us to membership. We have more tools than other candidate countries, and we believe that we are well prepared to take further steps on the path of joining the Union. We are convinced that Georgia will be another contributor to Euro-Atlantic security and we will further benefit the interests of the Euro-Atlantic community, "Janelidze said.
U.S. is the main strategic partner of Georgia and therefore main supporter of Georgia's NATO integration process. The strength of U.S.-Georgia relations is codified in the 2009 U.S.-Georgia Charter on Strategic Partnership. The US-Georgia Strategic Partnership Commission comprises four bilateral working groups on priority areas identified in the Charter: democracy; defence and security; economic, trade, and energy issues; and people-to-people and cultural exchanges. In addition to holding a high-level plenary session of the Commission each year, senior-level the US and Georgian policymakers lead yearly meetings of each working group to review commitments, update activities, and establish future objectives. Since the signing of the Charter, the United States and Georgia have strengthened their cooperation based on the US support for Georgia's sovereignty and territorial integrity, and its commitment to further democratic and economic reforms.
U.S. Government assistance to Georgia supports the consolidation of Georgia's democracy; its eventual integration into Euro-Atlantic institutions; progress toward a peacefully unified nation, secure in its borders; and further development of its free-market economy.
The United States recognized the independence of Georgia on 25 December 1991 and established diplomatic relations with Georgia in 1992. After establishing the diplomatic relations U.S. started to support Georgia through USAID. USAID began operating in Georgia in 1992. For 24 years, the American people have provided over $1.5 billion. Building on this successful partnership, the U.S. Government dedicates approximately $40 million annually to 50 wide-reaching programs that support Georgia's democratic, free-market, Western orientation.
Initiatives stimulate economic growth, develop democratic institutions, enhance energy security, mitigate climate change, improve education, and foster the increased inclusion of minority and disadvantaged people in Georgia, including those living across ethnic and geographic boundaries.