Tbilisi City Hall Starts Replacement of 'Khrushchyovka' Blocks of Flats
By Tea Mariamidze
Friday, June 1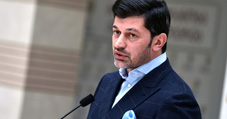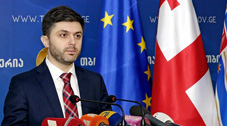 Tbilisi City Hall has launched a project which envisages replacement of so called "Khrushchyovka" blocks of flats, a type of low-cost, concrete-paneled or brick three- to five-storied apartment building which was developed in the Soviet Union during the early 1960s, during the time its namesake Nikita Khrushchev directed the Soviet government.
The information was released by Tbilisi Mayor Kakha Kaladze at the City Hall sitting on May 31, adding the first stage the project envisages replacement of 4 blocks of flats, located in 6th and 8th quarters in the III massive of Varketili district.
"This is not a one-time project, the process is alive and it will give us the chance to implement the large-scale so-called "Khrushchovka'' project and I am very glad that this project has started," Kaladze said.
The Mayor explained that replacement of "Khushchyovkas" was one of his pre-election promises.
"Tbilisi City Hall announces the expression of interest in order to develop a residential complex on the 30,205 sq.m land plot, located in the III massive of Varketili district, and we invite private sector to take part in the project. The winner company will implement this project in accordance with the Development Regulation Plan adopted by Tbilisi City Council, "Kaladze said.
The Deputy Vice-Mayor Irakli Khmaladze says that initially around 170 families will be provided with flats, when a new residential complex is built on the place of three damaged buildings in Varketili.
"People who will give us 100% agreement, will be asked to move out of the "Khrushchyovkas" in order to replace the completely damaged buildings with the newly built, safe and modern residential complexes," Deputy Mayor explained.
Originally expected to last for only about 25 years, "Khrushchyovkas" primarily sprang up in Tbilisi during the late 1950s and 1960s in what were then the city's more spacious outskirts – Saburtalo, Gldani, Varketili, Temka, Dighomi; now, some of its most densely populated areas.
The one-to-three-room apartments were strictly utilitarian – between 31 to 58 square meters in area – with storage built into the walls for maximum usage of space. The ceilings were mostly 2.48-meters high.