Georgia - Transit Hub of "Lapis Lazuli" Corridor
By Vladimer Napetvaridze
Friday, June 1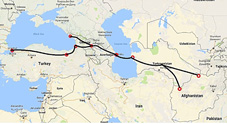 On May 30, the Parliament of Georgia discussed the draft of the resolution on ratification of the Agreement on Transit and Transport Cooperation (Agreement on "Lapis Lazuli" Route). The Draft Agreement on Transit and Transport Cooperation provides a legal basis for cooperation between the five countries: Islamic Republic of Afghanistan, Turkmenistan, Azerbaijan, Georgia, and Turkey.
As the chairman of Sector Economy and Economic Policy Committee Roman Kakulia stated, this agreement has a big political importance, because it serves to reduce Russian influence.
"The agreement is important - first of all, it corresponds to our country's very important goal - to acquire the function of the transport hub. It also reduces the Russian influence, which is also a priority issue," Kakulia said.
The Lapis Lazuli route connects Afghanistan through Turkmenistan, Azerbaijan, Georgia to the Black Sea and through Turkey to the Mediterranean Sea and Europe. This corridor has a historic importance. 2,000 years ago, it was used to transport lapis lazuli stone from north-eastern Afghanistan to Europe.
The agreement about Lapis Lazuli Corridor was signed in November 2017, and according to the document,it was created for transit and trade cooperation among Afghanistan, Turkmenistan, Azerbaijan, Georgia and Turkey. This agreement will help reduce barriers facing transit trade and develop a Custom Procedure Integration in the region.
The Lapis Lazuli corridor is one of the most effective transit trade route between Central Asia the Caucasus, the Balkans and Central Europe and also connects effectively South Asia to European countries.
The Lapis Lazuli begins from Aqina in northern Faryab province and Turqundi in western Herat province of Afghanistan and continues to Turkmenistan and after passing Caspian Sea, arrives Baku, the Azerbaijan's capital and connects Baku to Tbilisi, Georgia's capital and also to the ports of Polti and Batumi of Georgia, as well as cities of Kars and Istanbul of Turkey and finally ends in Europe.
In modern geopolitical reality, small states with limited resources are trying to participate in different international treaties, thus increase their political weight. Despite the small territory, Georgia has the important transit function that increases the importance of this country for Europe as well as for Russia, because Georgia is situated on the alternative route connecting Europe with Asia.
Russia uses its resources and transit corridors as a pressure weapon against Europe, and in order to reduce Russian influence, Europe needs to find alternate ways to connect with Asia. Hence, the better will Georgia use its transit functions, the more important it will be for Europe, and thus it will accelerate the country's integration process into the EU and NATO.