TANAP Gas Pipeline to Europe via Georgia Opens in June
By Gvantsa Gabekhadze
Monday, June 4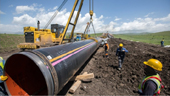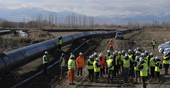 The Trans-Anatolian Natural Gas Pipeline (TANAP), a natural gas pipeline from Azerbaijan passing through Georgia and Turkey to Europe, is scheduled to be opened on June 12 in the Turkish city of Eskisehir.
The President of Georgia Giorgi Margvelashvili has been invited to the ceremony by his Turkish counterpart Recep Tayyip Erdogan.
TANAP, a 1,850km pipeline, will travel through Georgia to better connect Europe with natural gas from the Caspian Sea as a way to reduce Europe's dependence on Russian gas.
Construction on the $10 billion TANAP project began in March 2015.
The first gas transportation via TANAP is planned for 2018. The 1,850km pipeline will deliver 10 bcm to Europe once it is connected to the Trans Adriatic Pipeline (TAP) by 2020. By 2023, TANAP's capacity will increase to 23 bcm per year, and by 2026 to 31 bcm.
TANAP will bring natural gas from Azerbaijan through Georgia and Turkey to Europe, and from sources other than Russia.
TANAP is a part of the large-scale Southern Gas Corridor project.
The launching ceremony of the first stage of the Southern Gas Corridor project was held in Baku on May 29.
The gas from the Azerbaijani Shah Deniz field has already gone through the first segment of the Southern Gas Corridor - from the Sangachal terminal to the expanded South Caucasus Pipeline, the Azerbaijani Trend.az news agency reported.
The next stage will be commissioning of the TANAP gas pipeline, through which the gas will enter the territory of Turkey and further Europe.
The Southern Gas Corridor, which costs more than $40 billion, is one of the priority projects for the EU and provides for the transportation of 10 billion cubic meters of Azerbaijani gas from the Caspian region through Georgia and Turkey to Europe.
At the initial stage, the gas produced within the second phase of development of the Azerbaijani gas condensate field Shah Deniz is considered as the main source for the Southern Gas Corridor projects.