Gardabani Thermal Power Plant 2 Construction Launched
By Tea Mariamidze
Tuesday, June 5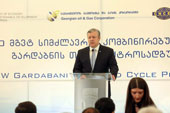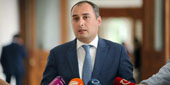 A new Combined Cycle Thermal Power Plant will be built in Georgia's Gardabani Municipality, Kvemo Kartli Region to increase the country's power generation.
230 MW Gardabani Thermal Power Plant 2 was visited by the Prime Minister of Georgia Giorgi Kvirikashvili and the Minister of Economy and Vice-Premier Dimitry Kumsishvili where they laid the foundation for the construction process.
The construction project is being implemented by Gardabani TPP 2, which is a subsidiary of the Georgian Oil and Gas Corporation. A similar TPP with an installed capacity of 230 MW, Gardabani 1, has been in operation since 2015.
China Tianchen Engineering Corporation (TCC) was selected for the implementation of the construction. The combined cycle's new energy-efficient is planned to be exploited for the 2019-2020 winter season.
The plant will have a function "launching from zero", which is provided via autonomous/independent diesel generator (Black Start Diesel Generator). This function enables the TPP to be started even during the so called System Black-out.
Georgia's Economy Minister Dimitry Kumsishvili said the foundation is almost prepared for the new plant.
"Therefore, we think that construction will be accomplished within schedule in 2020, before the winter season", Kumsishvili noted.
Moreover, the Georgian PM stated that just a year ago, the first combined cycle thermal power plant, which was financed by the Georgian Oil and Gas Corporation with the Partnership Fund, was successfully completed.
"Today, the construction of another such object is already underway, which is a great success," the Prime Minister stated.
Kvirikashvili drew attention to the positive dynamics that is observed in bilateral relations between China and Georgia.
"Congratulations on implementing such a significant project. In the energy sector, logistics, of course, in the tourism sector we expect more investments from China in the future," he stated.
The PM added that the free trade agreement between Georgia and China was historic and noted that the agreement provided a new dynamic of trade-economic relations between the two countries.
Moreover, the Oil and Gas Corporation of Georgia and the China Tianchen Engineering Corporation signed a memorandum of understanding. On the basis of the memorandum, the companies will continue to study the possibilities of cooperation in the field of industrial chemicals and mineral fertilizers in Georgia regarding the construction of a chemical enterprise in Georgia.