Killed Teenager's Father Meets the PM
By Vladimer Napetvaridze
Tuesday, June 5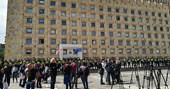 Protest rallies about the Khorava street tragedy that left the two teenagers dead, have been going on for several days. The government used various methods to defuse the tense situation, as some of the demonstrators have demanded the resignation of the cabinet and the system overhaul. Zaza Saralidze, the father of the youngster killed on Khorava Street in December, is asking for a thorough and fair investigation and says he will not stop until he sees the investigation is progressing.
Despite the fact that the Chief Prosecutor of Georgia made a statement about his resignation on the first day of the rallies and the Prime Minister Kvirikashvili arrived to the protest to make a statement, the Government couldn't persuade the organizers to stop the protest.
To solve the current political crisis, the head of the government and the organizers of the rally agreed to hold the meeting with Saralidze on June 4, in order to discuss possible ways out of the crisis. In his statement, the Prime Minister noted that he would meet Zaza Saralidze and his wife alone.
In the end, the meeting was attended by the Public Defender Nino Lomjaria, Zaza Saralidze, his lawyer and the Minister of Internal Affairs Giorgi Gakharia.
After the meeting, Saralidze stated he was promised by the PM that concrete steps will be taken to thoroughly investigate the case. However, the father of the killed teenager says he gave time to the authorities until June 10, in order to show him the investigation is progressing.
"The rallies will continue. If I see no result until June 10, then we will take more radical steps. I do not want only detention of my son's murderer. I want everyone involved to be held responsible," Saralidze stated.
He added the PM said he would resign, but it would change nothing.
"I will be looking forward to the answers. The system must be destroyed…Even the Interior Minister could not tell me anything," Saralidze claimed.
On May 31, Tbilisi City Court delivered a controversial verdict on the high-profile case of the murder of two teenage boys in central Tbilisi last year.
The court found the two detained minors guilty for the murder case. One of the detainees was found guilty for premeditated murder of one of the victims-Levan Datunashvili, while another detainee was found guilty for attempted murder of another victim-David Saralidze.
The court failed to say who stabbed Saralidze to death.
Zaza Saralidze stated that the court verdict "proved" there is someone else involved in the case, an alleged killer, who still walks free. He demands detention of his son's murderer.