Georgia's Air Space Usage up in 2018
Thursday, June 14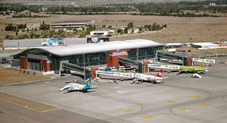 5 month statistics of 2018 show that the usage of Georgia's air space has increased by 10.5% compared to the same period of the previous year.
The statistics were released by LTD Sakaeronavigatsia, an agency under the Ministry of Economy and Sustainable Development, which manages air traffic within the Georgian airspace.
According to the agency, in January - May 2018, 57.919 instrumental flights were performed in the airspace of Georgia. This indicator is 5.500 flights more and 10.5% more than the data of the previous year.
The total number of flights in the Georgian airspace in the last five months is 41.925, which is 2,760 flights and 5.7% more compared to the same period of 2017.
As for particularly flights to and from Georgia, the number of take offs and landings of planes in Georgia amounted to 15.994, which is 3.254 flights and 25.5% more compared to the previous year.
The information reads that Georgian airspace is the most frequently used for transit movement by Turkish Airlines, Qatar Airways, Thai Airways International, Azerbaijan Airlines - AZAL, Singapore Airlines.
This year Georgian airways, Turkish Airlines, Wizz Air, Ukraine Airlines have been named as the top consumers of the Georgian airports.