Real Data-based technologies in the Activities of GNERC
By Levan Khutsishvili
Wednesday, June 20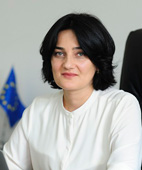 On June 19, The Georgian National Energy and Water Supply Regulatory Commission presented the new project that monitors commercial quality of the service - "Electronic Journal". Project is innovative as allows GNERC based on real-data to monitor the process of fulfillment of commercial quality standards by distribution water supply license companies operating in energy and water sectors.
"This is an electronic product involving all distribution and water supply companies. It is a program that controls the relationship between the consumer and the utility company. At the first stage, the Regulatory Commission established service standards - how the company communicates with the consumer when it calls for registration as a subscriber. The Commission has established standards. For example, the company should answer the consumer in frames of set deadline and if answer is not received within the time limit, the company is obliged to pay a compensation. The amount of compensation varies according to the standards, for individuals the fee is 5 GEL and 10 GEL for legal entities," said Irina Milorava, the Chair of the Georgian National Energy and Water Supply Regulatory Commission.
According to Milorava, when the user addresses the utility company, the company is obliged to upload the document to the journal and it automatically enables the GNCC to monitor how quality of service standards is maintained by companies.
According to the GNERC, the amount of compensations paid by companies to subscribers in the period from January 1, 2017 to May 31, 2018, is 2 164 520 GEL.
For example, in 2017 The Georgian National Energy and Water Supply Regulatory Commission (GNERC) have fined LLC Georgian Water and Power due to violation of license conditions. The company was ordered to pay 5000 GEL in favor of the state budget. The Commercial Quality Control Service of GNERC revealed that LTD "Georgian Water and Power" were completing the subscribers' applications disregarding the deadlines.
In July 25, 2016, GNERC approved the decree No. 13 about the "Rules of Commercial Quality of Service". "Electronic Journal" is regulated by this decree. Real-data technologies are trending in modern management, allowing to systematize and analyze big data in a real time, that, on the other hand gives opportunity to decision makers to find immediate solutions based on fresh datas. Implementation of real data-based services in the activities of GNERC can guarantee more efficient system management.