Georgian Boxing Champion Faces 40 Years in Prison in the US
By Gvantsa Gabekhadze
Thursday, June 21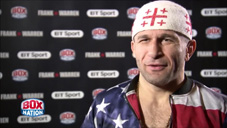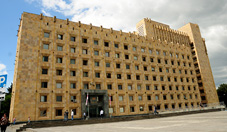 The Georgian middleweight boxing champion, Avtandil Khurtsidze, is facing up to 40 years in prison in the United States for his connections with a Georgian criminal boss, racketeering and money laundering.
The family of Khurtsidze claims that the man is innocent and the Georgian government did nothing to help the boxer prove his truth.
"He [Khutsidze] sat slumped in his chair as prosecutors went through their evidence, including multiple security videos they say will show the boxer threatening or bloodying people on behalf of co-defendant Shulaya," the New York Post writes.
"In one video, the jury is expected to see Khurtsidze stand up and punch a man directly in the face after he is accused of stealing money from a Brighton Beach poker ring Shulaya allegedly ran, court papers show. Shulaya then slaps the man's face and tells him he had better pay up or be punished further, court papers say," the article reads.
Khurtsidze, a boxing champion and enforcer of Razhden Shulaya, a Georgian criminal boss, has been found guilty of racketeering and related charges in connection with a sprawling and violent criminal enterprise operating in New York, New Jersey, Pennsylvania, Nevada, and abroad.
"As a unanimous jury found, Razhden Shulaya and his chief enforcer, Avtandil Khurtsidze, engaged in an array of criminal schemes that included violence, extortion, theft, trafficking in stolen goods, and fraud. Shulaya, a Russian 'vor v zakone' or 'thief-in-law,' is now a convicted thief under the US law. Both defendants now await sentencing for their crimes," Manhattan US Attorney Geoffrey S. Berman said.
According to the evidence at trial, Shulaya Enterprise was an organized criminal group operating under the direction and protection of Shulaya.
The US investigators say that Shulaya, with his associates, was engaged in widespread criminal activities, including acts of violence, extortion, the operation of illegal gambling businesses, fraud on various casinos, identity theft, credit card frauds, trafficking in large quantities of stolen goods, money laundering through a fraudulently established vodka import-export company, payment of bribes to local law enforcement officers, and the operation of a Brooklyn-based brothel.
Makvala Khurtsidze, mother of Avtandil Khurtsidze, says that the Georgian Dream government "absolutely ignored his son."
"My son is absolutely innocent, but I cannot do anything. Why the government is not interested in this story? He has many times brought credit to our country, he has done nothing but good, but nobody helped us. Nobody has contacted us for a year," she said.
Khurtsidze was arrested in New York together with 14 other Georgians on charges of membership of Russian criminal syndicate in July 2017.
Another famous Georgian boxer Levan Makashvili was released soon, while Khurtsidze was sentenced to pretrial detention.
15 Georgians were among 33 members of a Russian gang who were charged with racketeering, fraud, narcotics, firearms, and stolen property offences in the United States about a year ago.