Experts Allege the Tragedy in Mindeli Mine Happened Due to Human Mistake
By Tea Mariamidze
Friday, June 22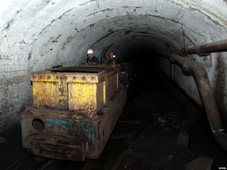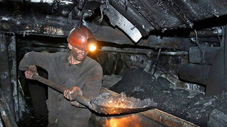 The result of the international expertise, held in Mindeli Mine, Tkibuli, Georgia, where 6 workers died and 3 more were severely injured on April 5, 2018, reads that the accident likely happened due to human factor not natural phenomena, as predicted before.
The information was released by the United Trade Union of Georgia on June 21. The chair of the union Irakli Petriashvili explains that the expertise was held on April 23-26 by international experts, invited by him.
"As a result of the inquiry, a 21-page conclusion was prepared which partially answers what caused the accident in the shaft," Petriashvili stated.
He said that the experts had several versions but allege the accident happened due to human mistake rather than breach of safety norms or natural phenomenon.
"Before the workers' shift, they were given explosives to conduct necessary works. Ukrainian experts say that an incorrect exploitation of the explosives might have been the reason of the tragedy," the chair of the trade union stated.
Petriashvili added that in order to prevent similar cases in the future, all recommendations of the experts should be taken into account.
"The explosion works should be conducted by using distant control mechanisms, also the conversation of the workers and the dispatcher should be recorded all the time," he added.
The Trade Unions claim they still request fulfillment of their previously voiced demands: tightening of safety measures in mines, lowering of pension age for miners from 60 to 55 years, cancellation of income tax, as well as the introduction of the insurance system of industrial accidents.
Six miners - Pavle Gamezardashvili (26), Giorgi Bochorishvili (28), Mirza Kurtsikidze (46), Besik Gurgenidze (50), Elguja Bochorishvili (52) and Gogi Rapava (59) died in the mine on April 5, at 4 am, after the tunnel collapsed.
According to the Interior Ministry, an investigation was launched into the case under the second part of Article 240 of the Criminal Code of Georgia, which implies a violation of safety rules in mining, construction or other works. The offense envisages up to 5 years of imprisonment.
The owner company of the mine, Saknakhshiri, reported the safety norms were observed at the site.
In total, 11 miners have died in Mindeli mine only in the last two years. However, the total amount of deceased in Mindeli mine has amounted to 25 since 2010.