City Hall Initiates New Projects for Greener Tbilisi
By Levan Khutsishvili
Friday, June 22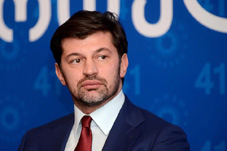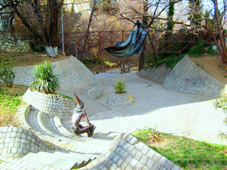 On June 20, 2018 Tbilisi Mayor Kakha Kaladze declared that "Red Square" named after Vasil Godziashvili will be rehabilitated and 700m longer bicycle lane will be laid there.
"We talk a lot about the need of green spaces in the city and local branches of the city hall are working on it. Rehabilitation of several small and middle-sized parks is in the process. Projects for city parks will also be prepared. We have planned to build two big city parks and research has already started on this purpose. Now, I want to present "Red Park" project. This year we will start to develop the whole territory and will install two playgrounds for kids, a picnic zone, a decorative chess board, relaxation zones, open exhibition space and etc. Additionally, the park will have 700m longer bicycle lane and I think it will be finished in 5 months," said Kakha Kaladze.
This is not the only project Tbilisi City Hall presented after Kakha Kaladze became the mayor. Kaladze plans to connect Mziuri Park with the Zoo territory and create a large green space there. The Zoo will move next to the Dendrological Park at the Tbilisi Sea.
Another initiative relates to traffic system regulations on the territory of "Laguna Vere". According to the project, the road will be broadened and petrol stations will be moved away from territory. Queuing at the petrol stations is one of the main reasons of traffic jams on the territory. According to Kaladze, similar steps will be taken at other territories in Tbilisi after the relevant research is conducted.
Due to increased transportation and the lack of green spaces, pollution remains as one of the major issues in Tbilisi.
According to the last year survey, air pollution in Tbilisi exceeds the norm by 300%. World Health Organization says that Tbilisi is one of the most polluted cities in the world. Pollution in Tbilisi exceeds the norm 2.9 times.
The pollution level in Washington (US) is 10% lower than average level; In Madrid (Spain) it is in line with the norm; Riga (Latvia) exceeds the norm by 70%; In Brussels (Belgium), the pollution level is 80% more than the average.