Court Orders 35,000 Bail for Three Charged for Varketili Metro Ceiling Collapse
By Tea Mariamidze
Monday, June 25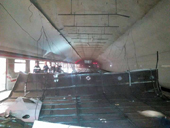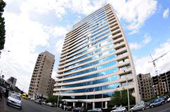 Tbilisi City Court has ordered GEL 35,000 bail for three men, charged over the Varketili metro ceiling collapse on January 30, 2018, which left 15 injured.
The Prosecutor's Office of Georgia (POG) appealed to the court to order 50,000 GEL bail for each of the charged, however, the judge imposed GEL 35,000 bail for each defendant.
Executive Director of LTD Geomap, manager of Kvarelmsheni LTD and Chief Engineer of Kvarelmsheni LTD were accused of conducting indecent and poor quality works, also of falsification of official documents.
According to POG, the investigation assessed that Executive Director of LTD Geomap, in order to participate in the tender announced by City Hall, also for some material benefit, submitted poor quality project of repair works and falsified the documents.
The POG says Kvarelmsheni LTD won the electronic tender announced on September 28, 2016 and carried out the rehabilitation works of Varketili metro station. LTD Geomap was tasked to check and inspect the carried out works and issue a proper report.
"On April 19, 2017, the Director of Geomap made a fake construction conclusion, which he signed himself instead of the project constructor and then presented the conclusion to the Tbilisi Transportation Company, after which LTD Kvarelmsheni resumed rehabilitation works," the statement of POG reads.
The statement reads that with the participation of Chief Engineer of Kvarelmsheni, metro Varketili ceiling works were poorly conducted without a project which resulted in the ceiling collapse on January 30, 2018.
The investigation is underway into the criminal case. The violation envisages from two to five years of imprisonment.
In addition, separate investigation into the same case is underway on the grounds of negligence of employees of the Tbilisi Transport Company under Article 342 of the Criminal Code of Georgia.
The ceiling collapsed on 18 persons, out of which 15 were injured and 11- severely injured. Their treatment expenses were covered by the General Healthcare Program and the Tbilisi City Hall.
The budget of the capital saw 347,852 GEL loss due to the ceiling collapse.