PM Says Sailors' Input in Budget is 400 million, which Should Increase
Tuesday, June 26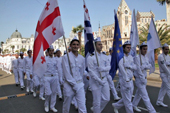 (BATUMI, Georgia) - The Georgian Prime Minister Mamuka Bakhtadze says that the input of the Georgian navy in the state budget amounts to 400 million GEL annually, which should increase.
Bakhtadze claims that the further development of the country's sea transport and providing higher qualification for the naval staff will ensure better incomes in the state budget.
"The profession of a sailor is one of the most courageous professions; Georgian sailors have always been particularly distinguished with courage and making hard decisions, "Bakhtadze stated during his speech on the World Sailor Day in the country's coastal Batumi city on Monday.
"We all know that your profession is connected with dangers and challenges. I would like to thank every Georgian sailor for their very important contribution to our economy. We have signed a memorandum with all the leading states, including 17 EU countries, allowing you [sailors] to demonstrate your profession in every part of the world", the PM said.
Bakhtadze claimed that the current task of the Georgian government is to more effectively integrate the country's economy into the global economy.
"The development of land and marine transport professions is of vital importance," the PM said.
Bakhtadze stated that the country's sea transport needs to be further developed and steps should be taken for producing internationally-qualified sailing staff.
For the first time and symbolically today, a ship named Cadet - which belongs to the Batumi Naval Institute - launched its international route. The fact that a Georgian training ship has received a permission to enter international waters shows that Georgia will gradually meet all international naval standards," Bakhtadze said.
Germany will recognize marine diplomas issued by Georgia, - Minister of Economy and Sustainable Development Giorgi Cherkezishvili said in Batumi, at the event dedicated to the International Day of the Seafarers.
"In the recent period, very important steps have been taken, especially in the direction of recognition of seafarers' diplomas and their employment. Just a few years ago, we received the consent from the Ministry of Transport of the Federal Republic of Germany and the Maritime Transport Agency of Georgia will begin to work on preparation of a Memorandum of Understanding with Germany on recognition of Georgian diplomas", Giorgi Cherkezishvili said.
The prime minister also spoke about the gradual development of the country's naval fleet.
According to the data from 2017, Georgia has 9,500 registered sailors.