Who will be Georgia's New Finance Minister?
By Gvantsa Gabekhadze
Wednesday, June 27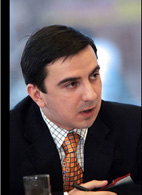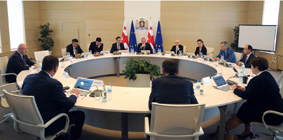 Davit Amaghlobeli, Georgian economist based in the US, is likely to become the next finance minister of Georgia, Maestro TV reported.
Amaghlobeli served as an acting president of the National Bank of Georgia from November, 2007 until February, 2009.
At various times he served as a senior specialist at the Committee on Economic Policy and Reforms in the Parliament of Georgia, in 1999-2001, as a professor assistant at Oregon State University in parallel with his studies in the United States.
Since 2001, Amaghlobeli has worked as the head of the department of the Ministry of Tax Revenue of Georgia; In 2002-2003, he held the post of expert at the Monetary and Fiscal Issues Sub-commission of the Poverty Reduction and Economic Growth Program.
Amaglobeli served as Fiscal Expert in the Georgian Office of the International Monetary Fund. He was deputy Finance Minister of Georgia in 2004. From March 2004 to November 2009, he held the post of the National Bank Vice-president. From November 2007 to February 2009, he served as the acting president of the National Bank.
New ministers will be named after the parliament of Georgia approves the government appeal over the number of ministries from 14 to 11.
The new Prime Minister Mamuka Bakhtadze says that he intends to carry out various reforms to improve the economic situation in the country.
The previous Prime Minister Giorgi Kvirikashvili named disagreements over economic issues within the Georgian Dream party leadership as one of the main reasons of his resignation in mid-June.
The opposition is skeptical over Bakhtadze's success as the new PM, saying that the county is still run by the founder of the Georgian Dream party, billionaire Bidzina Ivanishvili.