Georgian Parliament Speaker Visits the US
By Vladimer Napetvaridze
Wednesday, June 27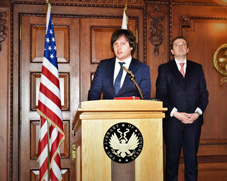 On 26-28 June, the Chairman of Georgian Parliament - Irakli Kobakhidze is visiting the United States. The visit was planned within the framework of the Tripartite Inter-Parliamentary Cooperation of Georgia, Moldova, and Ukraine.
In June 2018, Georgia, Ukraine and Moldova signed an agreement on creating the joint parliamentary assembly that will be aimed at deepening the cooperation and dialogue between the three countries, as well as strengthening inter-parliamentary relations and the discussions about ongoing Euro-integration process and the topic of occupied territories.
The decision of the three countries to create the Joint Parliamentary Assembly, on one hand, is about common interests, particularly their will to integrate into the European Union, and on the other- it relates to the common threat- Russia's imperialist policy, the main goal of which is to sustain the EU engagement with these states.
In addition to common interests and threats, Georgia, Moldova and Ukraine share common problems from the past. All three countries are post-Soviet states with territories occupied by Russia.
Russia uses hinders the integration of Georgia, Moldova, and Ukraine into the EU, including methods, which involves culture, religion, history, economic ties, and domestic political circumstances which is often used by Russia as a tool of political influence. One of the major weapons of Russia is an information warfare that is aimed to encourage anti-Western propaganda.
In 2014, Moldova and Ukraine signed with the Association Agreement (AA) with the EU, committing to the path of European integration and necessary reforms.
The decision of the three countries to create the joint assembly and thus accelerate the process of joining the European Union is another step forward in the Euro-integration process. However, every step towards the EU is causing Russia's hostility. The closer Georgia, Ukraine or Moldova will get to Europe, Russia's aggression against these states is going to grow. Therefore, cooperation between Georgia, Ukraine, and Moldova, together with other member states of EU, to prevent Russian aggression is of utmost importance.
On the other hand, the Assembly should often hold international political meetings in order to attract the international community's attention to the problems hindering the process of the European integration of Georgia, Moldova, and Ukraine.
The Chairman of the Georgian Parliament together with the Ukrainian and Moldovan colleagues- Andriy Parubiy and Andrian Candu, will meet the Speaker of the United States House of Representatives Paul Ryan, US Congressional Representative and with the co-chairmen of the Friendship Group with the Parliament of the United States of America-Ted Poe and Gerry Connolly. The delegation of the three countries will also meet with the co-chairs of House Democracy Partnership of Congress David Price and Peter Roskam, Chairman of Subcommittee on Europe and Regional Security Cooperation Ron Johnson and the Assistant Secretary, Bureau of European and Eurasian Affairs Wes Mitchell.