Chairman of Georgian Parliament about NATO Integration
By Vladimer Napetvaridze
Friday, June 29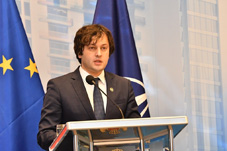 On June 28, at the conference organized by the United States Foreign Policy Council, the Chairman of the Parliament of Georgia, Irakli Kobakhidze spoke about the upcoming NATO summit and noted that Georgia is ready to further deepen its relations with Euro-Atlantic organizations.
"We are looking forward to NATO's upcoming summit, which, in our deepest belief, will reflect Georgia's progress towards Euro-Atlantic integration and accelerate Georgia's integration process in NATO, as it was decided 10 years ago at the Bucharest Summit. We are ready to deepen our relationship with the EU too, which is becoming more and more encouraging after signing the Association Agreement and implementing visa free policy," Kobakhidze stated.
The NATO summit, which is very important for Georgia will be held in Brussels in July. NATO membership is the only way for Georgia to avoid Russian aggression, on the other hand, Georgia is an important strategic partner for western countries, therefore, NATO cannot altogether decline Georgia's integration process into the Alliance. It is worthy of discussing why Georgia still hasn't achieved any significant progress in this process after years? The evident reason many argue is the lack of democracy in the country, however, other possible causes are noticed.
The last country joining the NATO was Montenegro, which only after 3 years of regaining its independence, was invited to join the Membership Action Plan (MAP). 6 years after receiving the MAP, Montenegro started the process of joining NATO and became a full member of the Alliance in 2017. The main factor of Montenegro's NATO integration in such short period of time was NATO's strategic interests in Balkan countries. One of the main supporting factors was that the country faces no military threats, and doesn't border Russia. Despite the fact that it was split from Serbia, there was no interest in forcible reunification. Surrounding states were also created when Yugoslavia fractured into smaller nations.
As for Georgia and its chances to join NATO, the country has been aspiring to join the Alliance for more than 20 years. Although it actively contributes to NATO-led operations and cooperates with the Allies and other partner countries in many other areas, Georgia wasn't even invited to join the Membership Action Plan. The main reason of this was likely the lack of democracy, but if we discuss the Montenegro case, it will become clear that NATO does not always look for high-level democracy to invite a country to join MAP.
The main challenges and hindering factors of Georgia's NATO membership are imperial ambitions of the Russian Federation. Russia uses all leverages to not allow Georgia and Ukraine join NATO, therefore, other member states are not accepting Georgia as a member state, avoiding confrontations with Russia. Giving the MAP to Georgia will be understood as defending the country from Russia's aggression, which is unlikely to be initiated by the alliance.