Constitutional Court Deprives Georgian Orthodox Church of Several Privileges
By Levan Khutsishvili
Thursday, July 5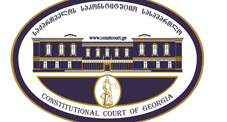 On July 3, 2018, the First Chamber of the Constitutional Court of Georgia made a decision in the case of the " LEPL "Evangelical Baptist Church of Georgia", LEPL "Evangelical Lutheran Church of Georgia", LEPL "Supreme Religious Division of Georgia's All Muslims", LEPL "Rescued Christians Divine Church in Georgia" LEPL "The Gospel Believers Church of Georgia" against the Parliament of Georgia".
The constitutional claim was a provision of the law on "state property", which allows the Georgian Autocephalous Orthodox Church to receive property for free from state property.
According to the applicants, the impugned norm gives the Georgian Patriarchate the possibility to receive free state property and hinders other religious unions from the right. According to the plaintiffs, such regulation is discriminatory and is contradicting the right of equality recognized by the Constitution of Georgia.
The defendant explained that the legitimate aim of the disputed norm is to promote special relations between the state and the church, in particular the requirement of Article 9 of the Constitution of Georgia - recognition of the special role of the Apostolic Autocephalous Orthodox Church in the history of the State.
According to the court, constitutional norms regulating the state and church relations, including recognition of the special role of the church, does not mean putting Orthodox Church in a privileged position. The court observed that recognition of the special role of the church is related to its historical merits and does not serve to create a privileged legal position that is not connected with the circumstances mentioned for Orthodox Christian religion.
The Constitutional Court has pointed out that norm has discriminative context and discrimination can be eliminated as a complete revocation of the reviewed privileges, as well as by equally distributing it to all sides. The court noted that the decision to resolve this issue is competence of the legislature, and thus postponed the abolishment of the unconstitutional norm until 31 December 2018.
Court's decision is unprecedented and can be considered as an important statement from the court in the process of making Georgia as a secular state. Georgian Orthodox Church has many privileges. The constitutional court discussed two of them:
1. Financial Privileges – Georgian Church was free from VAT payments when construction, restoration and painting temples and churches.
2. Property Privileges – Only Georgian Orthodox Church had right to receive Governmental real estate for free.
Revocation Georgian Orthodox Church of the privileges, and putting all confessions in the equal competitive environment would a crucial step to building a secular state.