President Margvelashvili to Head Georgian Delegation at NATO Summit
By Vladimer Napetvaridze
Friday, July 6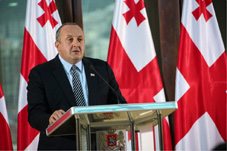 The President Giorgi Margvelashvili will lead the Georgian delegation to take part in NATO Brussels Summit on July 11-12.
Leaders of states meet the first time in the history of Georgia-NATO relations. The meetings will be focused on Georgia's security challenges, defense capabilities, and prospects for strengthening NATO-Georgia cooperation in this context.
In 2017-18 NATO-Georgia relations have achieved practical outcomes for developing the country's defense capabilities. Georgia is still actively involved in NATO military operations, participates and hosts major international military drills, with the help of the United States, strengthening the defense arsenal with such weapons as Javelins and the Stinger type air-defense systems.
According to Tengiz Pkhaladze, Advisor to the President for Foreign Affairs, in preparation for the upcoming NATO Summit, Georgia's one of the most important tasks will be to draw attention of the alliance to Georgia and its current security challenges.
"State leaders will meet for the first time in the history of Georgia-NATO Relations. Black Sea security issues, in which Georgia gradually becomes more involved, will also be discussed," said Pkhaladze.
The delegation has an important role, as it not only has to draw attention to Georgia's problems but show Europe that Georgia's problem threatens the international community.
Georgia's geographical location plays a role in maintaining the security of the Black Sea region, which is one of the main aspects of European security. Therefore, NATO should elaborate a vision for the Black Sea, which should involve not only regional NATO allies but also cooperation with NATO-aspirants. NATO should include Georgia in its new initiatives, including Black Sea air patrolling (similar to the Baltic Air Police Mission) that could be initiated by Turkey, Bulgaria, and Romania.
As a part of the Summit, Margvelashvili will hold bilateral meetings that will focus on specific steps to be taken by Georgia in Georgia-NATO relations and prospects for strengthening Georgia's defense capabilities.
Georgian delegation includes Foreign Minister, Defence Minister, Head of President Margvelashvili's Administration, Secretary of the National Security Council, Chief of the Staff of Georgian Armed Forces and Advisor to President Margvelashvili for Foreign Affairs.