Emergency Management Service Demands Closure of Hotel in Batumi
By Tea Mariamidze
Wednesday, July 11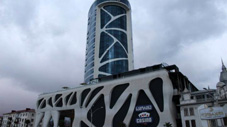 The Emergency Management Service of Georgia is asking for the suspension of operation of hotel and casino Welmond in Georgia's Black Sea coastal city Batumi.
The agency reports that Welmond, which is former Leogrand hotel, where 11 people died and more than 20 were injured in November 2017 fire, still has no fire safety systems installed.
Emergency Management Service reports that this year the specialists conducted monitoring and fire-technical inspection of the hotel and casino three times and issued 43 recommendations, most of which have not been fulfilled yet.
According to the specialists, there is no anti-smoke system in the building, adding if there occurs fire again people will not be able to leave the hotel.
"The results of last year's fire assessment showed that the main cause of the death of people was the absence of anti-fire systems, which are absent even now. It creates risks that in case of fire, it will spread rapidly. There is no additional infrastructure for evacuation and it is unclear when an external evacuation ladder connecting with all the floors will be installed," the statement of the agency reads.
After last year's fire, the Emergency Management Service of Georgia was against of granting exploitation rights to the hotel which was renamed and is called Welmond now. According to the agency, despite of being fined for breaching of safety norms and various violations, the hotel and casino resumed working in May, 2018.
The Emergency Management Agency has appealed to the court to suspend the work of the Hotel and Casino Welmond building for the safety of its visitors.
Fire broke out in the 5-star, 22-storey Leogrand late on November 24, claiming 11 lives and leaving at least 20 people injured. Of those who were listed among the dead were 10 Georgian citizens and one Iranian. A local firefighter, four Turks and one Israeli were hospitalized for their injuries.
The investigation, launched by the Interior Ministry into the case, revealed that Leogrand was operating in violation of fire safety rules.
On the basis of the investigation into the case, two managers were arrested.