Experts Say Each Car in Tbilisi Needs 4-5 Parking Spots
By Levan Khutsishvili
Wednesday, July 11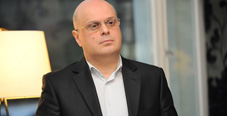 On July 10, 2018 Interpressnews.ge spread information that the group working on the General Plan of Land Use of Tbilisi, considers that each car in capital city requires 4-5 parking spaces.
According to the group, the mentioned places should be located next to the houses, jobs, trade centers and irregular destinations (medical center, cultural center, state organization, etc.).
In addition, as head of the group working on the General Plan, Mamuka Salukvadze declared that parking price in the capital city should be set according to zones and parking in the center should be more expensive than in suburbs.
"It's a system that we can bring from abroad. I think parking in the center of Tbilisi should be much more expensive than in the city's peripheries. A separate document should be developed for organizing parking in the city. But it also needs research to identify how much parking should cost in the city center; it should be adequate to the financial possibilities of the society. As far as I know, the City Hall will start working on it in the nearest future," said Mamuka Salukvadze.
To follow the examples of cities from different countries and recommendations from international organizations, it is clear that above mentioned initiative can bring relief to the transportation system in Tbilisi. According to CIVITAS - "Differentiated pricing schemes for parking are an effective means to reduce congestion and pollutant emissions in an urban context but parking measures should be based on thorough analysis of parking data and facilities. Tariffs should carefully be differentiated across target areas and user groups".
Another initiative that was mentioned by Mamuka Salukvadze is to install so called "low-speed streets" in old Tbilisi, which, in his opinion, will help to make city safe for pedestrians and will contribute much in development of bicycle road system.
According to the plans that City Hall has and that should be based on General Plan of Land Use of Tbilisi, local government is planning the optimization of the transportation systems in 2018-2019 including re-planning of route system for public transport (mini-buses and buses), creating hierarchical rout network for transport, routing, identifying the scope and frequency of public transport and creation of integrated public transportation system.
During the same period, the City Hall should also develop a model of transportation, including road network, public transport network, functional zoning map, motor and passenger data and as it is planned transportation plan should be submitted by 2019-2022.
Active communication with society and experts community is crucial for finding the solutions that will solve the problems and will cause less problems.