Deal Between European Georgia and the United National Movement
By Vladimer Napetvaridze
Thursday, July 12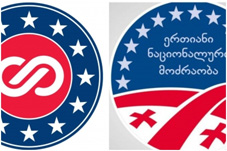 European People's Party (EPP) President initiated a three-point agreement between European Georgia and United National Movement.
European Georgia said the agreement signed in Brussels in the office of the European People's Party consists of three key points: 1. Parties will support each other's candidate who passes the second round of the presidential elections; 2. During the campaign they will refrain from attacking each other. 3. In the first and second rounds of elections, they will mobilize their voters: "We, the representatives of Georgia's pro-European forces - "European Georgia" and "the United National Movement "- express our responsibility for the country's future and emphasize that only cooperation, bilateral respect and joint efforts of the opposition can return Georgia's democracy and its pro-European course. Thus, we take responsibilities:
1. We will support the candidate of European Georgia or United National Movement in the second round of the presidential election scheduled for October 2018.
2. We won't focus on our differences and neither will attack each other during the presidential campaign.
3. We will mobilize voters to participate in elections in the first and second rounds because the elections will play crucial role in changing the current regime.
"The European People's Party" supports the document and will be the guarantor of this agreement," the joint statement reads.
European Georgia was formed in 2017, when several UNM members left the party. Davit Bakradze, at the special briefing on January 12, along with his associates, spoke about the reasons for leaving the UNM.
"After the 2016 parliamentary elections, there were fundamental disagreements inside the party. It was caused by different opinions about assessing the past and managing the strategy and tactics of the party. The most important disagreement was about the future of the party, we didn't agree with the methods of political battle, that the party had to offer its supporters," Bakradze said in 2017.
In 2017, 59 members left the United National Movement and formed a new political movement "European Georgia". In 2016 parliamentary elections, United National Movement received 27% of the votes. After the split, the UNM and the "European Georgia" took part in the Mayoral elections of Tbilisi separately. Elene Khoshtaria, representative of European Georgia, received 7% of the votes and the candidate of the United National Zaal Udumashvili -17%.
Comparing the results of parliamentary and mayoral elections is not efficient, but it reveals the tendency that splitting UNM into to two separate parties has not increased the number of their supporters. The three-point agreement serves to ensure that the parties do not interfere with each other.