Allegations About Possible Presidential Candidate of the Ruling Party
By Vladimer Napetvaridze
Monday, July 15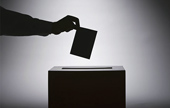 Approximately in 3 months, the last presidential elections will be held in Georgia. The leading political parties haven't nominated their candidates yet.
Giorgi Margvelashvili's statement caused political debates last week. The president said that "Georgian Dream" couldn't name its candidate: "This is a politically curious story; the ruling team can't nominate its presidential candidate. Do you know why? Because what they have been doing against the president Institute for 5 years. There was a sea of insults, political blackmailing and propaganda," stated Margvelashvili.
Despite the fact that Georgian Dream has not officially nominated a candidate, there are active discussions underway among the politicians about the candidacy of Salome Zurabishvili: "I think Salome Zurabishvili is a well-prepared person, with a huge experience and I will support her candidacy not only for the presidential elections but for all positions," said Shota Khabareli, member of Georgian Dream.
According to Giga Bokeria, member of the opposition party "European Georgia", the identity of Georgian Dream's candidate does not matter. "I will assess the candidacy of Zurabishvili, as any other candidate from Ivanishvili's team because she is a member of the ruling team,"- Bokeria says.
Emzar Kvitsiani-the member of political party Alliance of Patriots stated that Zurabishvili has done good and bad moves in her past. Kvitsiani praises Zurabishvili for her intensive work in the process of Russian military bases to withdraw from Georgia but criticizes her for her past statement about Georgian nationality.
Despite the ongoing discussions, the MP does not confirm information about her possible participation in the presidential elections as a candidate of the Georgian Dream:" I will make a statement, when I think it is appropriate. I will call journalists and make a briefing," stated Zurabishvili.
Georgian Dream is facing a difficult choice. On one hand, the presidential candidate should be a well-known person to be able to win the elections and on the other hand, he/she should not be one of the leaders of the Georgian Dream.