Helsinki Commission Holds Hearing on Georgia's Occupation Issues
By Vladimer Napetvaridze
Friday, July 20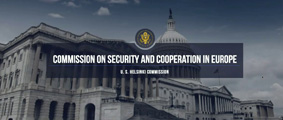 On 18 July, the Commission on Security and Cooperation in Europe, also known as the Helsinki Commission held a hearing on the Georgia's occupation issues and the violations of international laws committed by Russia.
The Helsinki Commission is an independent agency of the US government, which promotes human rights, democracy, economic, environmental, and military cooperation in the 57-nation OSCE region.
The Ambassador of Georgia to US David Bakradze, Damon Wilson of the Atlantic Council of US and Luke Coffey of the Heritage Foundation participated in the hearing which was titled: "On Violations of the OSCE Principles and Commitments by the Russian Federation, and Severe Human Rights Situation in the Illegally Occupied Regions of Georgia – Abkhazia and Tskhinvali Region/South Ossetia."
The commission defined the main messages of the hearing. The Moscow's invasion of Georgia was assessed as the Kremlin's willingness to change European borders using the military force, thus deprive the right of its neighbours to choose their own future.
"The war in Georgia set the stage for Vladimir Putin's subsequent war in Ukraine, including the illegal occupation of Crimea and the Donbass and the attempted annexation of Crimea. The human costs of the Russian occupation of Georgia have been tragic. Tens of thousands of Georgians remain internally displaced and face arbitrary detention, mistreatment, and even death if they attempt to visit their property and communities across the Russian-imposed internal administrative boundary. De facto authorities have also worked to eliminate Georgian language and culture from South Ossetia and Abkhazia," the Helsinki Commissions said.
According to statement of the senator Roger Wickers statement, which is the chairman of the US Helsinki Commission, the Helsinki Commission is holding hearing to make sure the American people and the international community do not lose sight of the continued illegal occupation of Georgia — as well as its costs and implications.
One of the main topics of the discussions was Georgia's aspiration to join the Western Alliance and its progress on this path: "I want to congratulate Georgia on the progress that you are making on the rule of law and independent judiciary and all of the things that we look for, in countries that would like to join the Western alliance," stated the senator Wicker at the end of the hearing.
Georgian ambassador to US David Bakradze thanked the US Congress, government and administration for their support to Georgia's NATO integration process, and for their interest to solve the problem of the Georgia's occupied territories.
The Minister of the Foreign affairs of Georgia- David Zalkaliani also assessed the results of the Helsinki Commission meeting and stated that the hearing which was dedicated to the issues of Georgia's occupied territories, is the reflection of the U.S. strong support towards Georgia: The fact that both parties of the US Congress support Georgia indicates that we have a very prominent place in the American political agenda," Zalkaliani said.