Georgian Mine Company Fires 3 Management Members
By Tea Mariamidze
Tuesday, July 24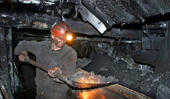 The Georgian Industrial Group, the largest holding in Georgia owning the Saknakhshiri Company, which operates mines in Georgia, has fired 3 members of the management team following the demands of the miners.
The company reports that Saknakhshiri General Director Jambul Jakeli dismissed the Director Akaki Akhvlediani, Director of Production Giorgi Karkashadze and Chief Engineer Gizo Kirkitadze.
The changes came after 4 miners died and 6 were severely injured in one of the Saknakhshiri mines – Mindeli, Tkibuli Municipality, on July 16.
Tkibuli Mayor, Temur Chubinidze says the Head of Mindeli shaft and his deputy will be temporarily suspended until the investigation is over.
The Interior Ministry launched the investigation after the incident under the second part of Article 240 of the Criminal Code of Georgia, which implies a violation of safety rules in mining, construction or other works.
Moreover, Saknakhshiri says the General Director is ready to resign, but he cannot do this before the investigation is over.
The miners and the trade unions were demanding the dismissal of the mine administration. They are holding protest rallies in Tkibuli center, asking for administrative changes, strengthening of safety conditions in mines and guaranteed salaries while the mine is closed during the investigation process.
The main demands of the miners' trade union are:
1. An objective investigation of April 6 and July 16 accidents in Mindeli mine.
2.Temporary conservation of shafts to evaluate the existing risks and a full modernization of the facility;
3. Full compensation of employees during the entire period of mine conservation;
4. Meeting with the prime minister, which will be attended by the representatives of trade unions, company Saknakhshiri administration and government, as well as the miners of the Mindeli mine.
5. Signing a document when the agreement is reached regarding the abovementioned issues.
Since April 6, 2018, 10 miners have lost their lives in Mindeli mine. The last accident killed 4 and injured 6.
A seven-member group of employees composed of labor inspectors under the Ministry of Economy stated they found some violations in the mine, adding the possible link between these violations and the incident will be assessed after the investigation is completed.