Svaneti Locals Confront Financial Police
By Tea Mariamidze
Friday, July 27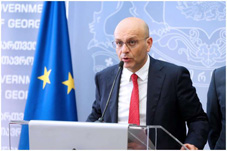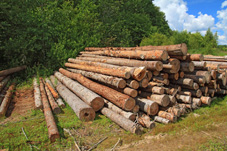 The locals of Svaneti two villages - Tchuberi and Khaishi have confronted the financial police representatives, after they arrived there to carry out inspection regarding illegal tree-cutting in the region.
The inspection was launched in all regions of the country after the Prime Minister of Georgia, Mamuka Bakhtadze, announced that the government will be strict with everyone who is engaged in illegal cutting of trees or who is covering such activities.
Bakhtadze informed that the Investigation Service of the Ministry of Finance has arrested 15 persons on the fact of illegal sale of timber and wooden materials using fake tax documents as a result of activities carried out recently.
He added that import of timber will be exempt from value-added tax (VAT) in Georgia in order to prevent illegal tree-cutting in the country.
When the Employees of the Investigation Service of the Ministry of Finance arrived in Svaneti villages, the locals gathered and blocked the main road, preventing the police from working.
The situation escalated and additional police forces were mobilized. The Tchuberi locals reminded that their village was hit by a flood earlier this month. They said it was unfair that the government sent police forces for inspection.
The representatives of the Financial Police asked the locals to let them search the houses, as they have doubts some people might be illegally cutting and processing wood.
Meanwhile, some of the people gathered in the center of Khaishi threw stones at the riot police mobilized on the spot. They say the rally will last until every policeman leaves the villages.
Head of Samegrelo-Zemo Svaneti Police Department, Nikoloz Diasamidze called on locals to calm down and let the law enforcers work.
He promised the protesters that no one would be arrested, adding only illegally obtained wood materials would be taken by the police.
Finance Minister Ivane Machavariani stated the forest needs protection, adding the measures implemented in Svaneti are legal and within the framework of this strategy.
"For the past two weeks, 15 persons have been arrested for illegal tree-cutting and fake documents. Investigation Service of the Ministry of Finance will continue active work in this direction, "Machavariani said.
The Investigative Service of the Ministry of Finance also issued a statement regarding the developments in Svaneti villages.
"Special Task Unit is mobilized in Chuberi and Khaishi villages in order to ensure safety of Investigative Service employees during performing their duties," the statement reads.