Georgian Gov't Vows to Tighten Exhaust Control
By Tea Mariamidze
Monday, July 30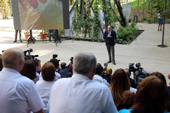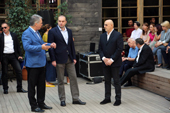 The government of Georgia is going to tighten the control of exhaust in the country in order to help reduce air pollution in the cities.
The Prime Minister Mamuka Bakhtadze, while presenting Green Economy concept, which focuses on environmental protection by tightening the regulations in this regard, made the statement.
"All the steps we will take in the environmental policy at the central and municipal level will be a part of the common strategy and overall vision. Therefore, we must gradually tighten the environmental standards and bring them closer to European ones," Bakhtadze stated.
According to him, the process of harmonizing the Georgian legislation with the European norms has started, adding in the next few years more clear and concrete steps should be taken to prevent air, soil and water pollution, and to improve waste management and the sustainable management of biodiversity, ecosystems and natural resources.
"Starting August 1, we are launching to measure atmospheric air quality throughout the country by modern and European standards," Bakhtadze said.
In addition, he noted that an Environmental Ombudsman Institute will be created, which will effectively communicate with the public in order to raise the efficiency government's solving ecological problems.
"In parallel with the introduction of European standards of air quality monitoring, a web portal will be developed, providing online information permanently on the air quality in certain locations," the PM said.
Bakhtadze noted that one of the main priorities of the government is transport policy.
He mentioned mandatory inspection of vehicles, which was activated on January 1, 2018, which implies inspection of all kinds of vehicles by the end of 2019.
Moreover, tighter regulations will be applied to petrol and diesel fuels. According to the prime minister, starting October 1, the government plans to move to "Euro 4" and to "Euro 5" from 2020, meaning the sulfur content will be reduced 10 times in the fuel imported to Georgia.
"In 2018-2019 we will replace old yellow buses with new blue ones. In addition, we will gradually start the process of introduction of electric buses. Our task is to make public transport the most accessible and comfortable," he added.
Bakhtadze presented the Green Economy concept in Kojori on July 27. The new strategy aims at neutralizing the results of previous environmental damages and preserving existing natural resources.