NDI's Pre-election Process Assessment
By Vladimer Napetvaridze
Monday, July 30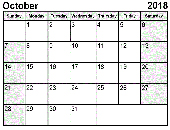 The National Democratic Institute (NDI) published a pre-election process assessment of Georgia's last direct presidential elections in October 2018.
"The election date still has not been set; the ruling Georgian Dream party has not yet determined whether it will field a candidate; the current president has not decided whether or not he will run; parties are divided about the importance of this election given the limitations of the office, sending a message of ambivalence to the public. While some argued the elections were irrelevant, others asserted that even with reduced responsibilities, the president still has an important public mandate to represent citizens and shape national discussions. Further, opposition leaders noted he or she has the potential to serve as an additional check on government and introduce more pluralistic public debate," – the report reads.
According to NDI, the president should set an election date as soon as possible to ensure relevant regulations around campaigning can be applied and parties and candidates can commence their official campaigns.
Gia Volski, one of the leaders of the parliamentary majority, doesn't agree with the delegation and believes that setting the date of the election too early creates difficulties, -
"It is lawful that the president has not set the date of the elections yet. Setting the date of the election too early creates organizational and financial difficulties. Maybe, NDI's recommendation is right, and it would be good for political processes, but I do not think that aggravation of the issue is correct, "Gia Volski stated.
According to the Georgian legislation, a president can set an election date, 60 days before a presidential election. Due to the fact that previous presidential elections were held in October 2013, the 2018 elections will be held in October, after the calendar year of the presidential term ends.
As the elections should be held in October, a certain date must be announced 60 days before. Therefore, on September 1, Margvelashvili can announce that the last presidential elections are to be held on October 31. Once the president sets an election date, political parties and candidates will be able to commence their official campaigns.