International Military Drills as International Political Message
By Vladimer Napetvaridze
Thursday, August 2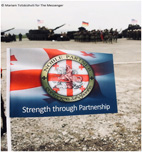 The multinational exercise Noble Partner 2018 has officially opened in Vaziani military airfield on August 1. The drill is annual, and it is intended to support and enhance Georgian military forces, together with the US and participating nations during a multinational training operation. Noble Partner 2018 is multinational military training, which held on the territory of Georgia for the fourth time, the motto of this study is "Strength through Partnership." For the first time, it took place in 2015, and Georgian and American soldiers took part in it.
These drills are not just military exercises, but political messages too and it shows support of the U.S and other NATO member countries for Georgia. Each year The Noble Partner drills are growing larger comparing to the previous military exercises. If in 2015 it was initially presented only by the Georgian American soldiers, today there are over 3000 soldiers from 13 countries, among them are: 1300 Georgians and 1170 US soldiers, as well as 500 soldiers from UK, Germany, Estonia, France, Lithuania, Poland, Norway, Turkey, Ukraine, Azerbaijan and Armenia. Azerbaijanian and Armenian soldiers are taking part in joint military exercises because it is the first joint military exercise between Armenia, Georgia, and Azerbaijan.
In 2017, when military drills Agile Spirit 2017 took place in Georgia, Armenia at the last moment, without providing any detailed information refused to take part in it. Military experts assumed several reasons for it: Azerbaijan which is in tensed relation with Armenia was taking part in it, and the second assumption concerns the fact that Armenia is the member of Russia led Collective Security Treaty Organization, and there could have been a significant pressure on Armenia's decision to take part in NATO-backed military drill. But this year, Georgia, Armenia and Azerbaijan, together with ten other states, are taking part in joint military drills Noble Partner 2018.
As the Ministry of Defence reports, the goal of the multinational military exercises to improve skills in stability, defensive and offensive operations, increase interoperability between the armed forces of participating countries and contribute to the security of the Black Sea region.
Georgia aspires to join the NATO, which could be the solution for the many external problems that the country faces. However, there are some terms to be fulfilled to join the alliance. All the Western-backed Military drills like Noble Partner and Agile Spirit, and joint military operations, are part of Georgian strategy to join NATO.
Georgian Armed Forces participated in international peacekeeping missions since 1999. At different times Georgian militaries were involved in the following operations of NATO: Peacekeeping mission in Kosovo - KFOR-Kosovo Forces 1999-2008; Anti-terrorism mission operated in the Mediterranean - Active Endeavour- 2010-2016; ISAF – International Security Assistance Force. Afghanistan 2004 -2014; NRF – NATO Response Forces mission from 2015 -till now; Resolute Support - led training, advice and assist mission. Afghanistan from 2015 – till today;
Comparing to other NATO partner countries, Georgia is the most significant contributor in Afghan mission Georgia's aspiration towards NATO stays intact for many years, and this aspiration of the country to join the organization does not remain without the attention of international partners. Georgia is actively involved in international peacekeeping missions of NATO and beside this is carrying out reforms to fulfill all the criteria to join the alliance. On the other hand, Georgia's aspiration and activity were reflected during the NATO Brussels summit in 2018, and the alliance member states declared that the country would join NATO; however, they have still not specified when.