Flooding Hits Georgia's Black Sea Town Poti
By Tea Mariamidze
Friday, August 3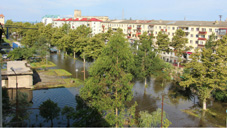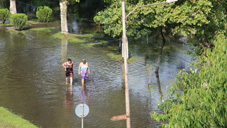 Heavy rain, which hit Georgia's Black Sea coastal town of Poti at midnight on August 2, flooded the streets, first floors of the houses and shops and destroyed the infrastructure.
As a result of the heavy rainfall, electricity has been cut off in the town, and the pumping stations stopped working for a few hours.
However, as Poti Mayor's Office reports, the electricity has been restored in the most of the town, adding the pumping works have also been resumed.
Poti locals claim the flooding destroyed their furniture and electrical appliances. They ask the state for help.
Poti Mayor Gocha Kurdgelia says the situation is stable at the moment. According to him, the City Hall will do its best to help the affected locals.
"The abundant rainfall was observed in the city. Electricity was suspended, causing the pumping stations to stop and the streets were flooded. A special commission has been set up, which will calculate the damage and the locals will be provided with proper assistance, "said the mayor.
One of the affected Poti residents, Nanuli Nozadze says that the town often has the problem of flooding.
"Furniture and household items were destroyed. Our poultry also died. The disaster caused serious damage. We call on the Mayor's Office to help us," she stated.
The locals claim that the drainage system fails to work in the town, which does not let the excessive water and causes flooding. They ask the mayor to solve this problem too.
Poti City Hall has announced they have developed a project that envisages construction of a new pumping station and arrangement of new water drainage system in the streets.
The exact amount of the damage, inflicted to Poti, will be known when the special commission finishes examination of affected houses and infrastructure.