Clergyman Arrested for Attempted Murder Addresses President
By Gvantsa Gabekhadze
Monday, August 6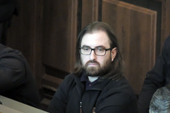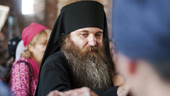 Clergyman Giorgi Mamaladze, who was sent to prison for nine years for attempted murder of the patriarch's female secretary, says that he will write a letter to President Giorgi Margvelashvili, where he will speak about the circumstances that victimized him.
Mamaladze, who believes that the patriarch's secretary Shorena Tetruashvili and archbishop Jacob plotted his arrest, told the Rustavi 2 private broadcaster that the president has all levers to study his case in details.
"The president can unveil the secrets of the case if he decides to do so and if he manages to cope with the huge pressure," Mamaladze said.
The arrested clergyman said that the recent resignation of the Supreme Court chairperson Nino Gvenetadze was related to his case, which is also known as the cyanide case.
"Gvenetadze failed to resist the stress on the case," Mamaladze said.
Mamaladze also said that if he kept silence on certain issues, he would be released from prison.
Archbishop Jacob responded, saying that Mamaladze is a liar and many in the church believe that he tried to murder Tetruashvili for revenge, as the latter created obstacles for the clergyman to get promoted in his career.
"Those who support him [Mamaladze] may also get in trouble," Jacob said.
In early February this year, Georgia's Chief Prosecutor's Office announced that they had detained archpriest Giorgi Mamaladze, the deputy head of the Patriarchate's Property Management Service and director general of the Patriarchate's medical center, at Tbilisi International Airport, from where he intended to depart for Germany on February 10.
At that time the Patriarch was in Germany, where he was operated on for bladder-related complications.
Then Chief Prosecutor Irakli Shotadze said that Mamaladze had attempted to acquire cyanide, and the man from whom he tried to receive the substance (journalist Irakli Mamaladze, the detained archpriest's close friend and relative) informed the police that the archpriest intended to kill a "high ranking spiritual figure."
The Office did not say that the person whose murder was allegedly planned was necessarily the Patriarch. However, the Office's silence for several days and unconfirmed information generated speculation that the target was Patriarch Ilia.
Suspicion grew when then Prime Minister Giorgi Kvirikashvili stated that the country had "avoided a huge tragedy."
Only after several days did the Office stated that the alleged target was the Patriarch's female secretary Shorena Tetruashvili, and also released video footage in which Mamaladze spoke about Tetruashvili in a negative context.
He is also heard to say that Tetruashvili is an influential figure in the patriarchate who represents an obstacle for his career.
Mamaladze's lawyers and family claim the man is innocent and the footage was fabricated.
Some members of the church claim that Mamaladze knew about various financial and property-related violations within the church, which is why he was "trapped by some people involved in illegalities."
They named Patriarch's secretary Tetruashvili as a "key wrongdoer" and Archbishop Jacob.