PM Visits UEFA Standards Stadium Construction in Georgia's Batumi
By Tea Mariamidze
Tuesday, August 7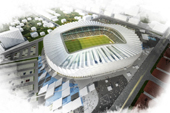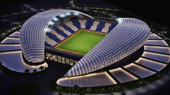 Georgian Prime Minister Mamuka Bakhtadze visited the construction works of the UEFA standards stadium in Georgia's Black Sea coastal city of Batumi, which will be finished by 2020.
Designed according to the requirements of the Union of European Football Associations (UEFA) IV category in 2016, the construction of the stadium officially kicked off in January, 2018.and its capacity will be 20,000 spectators.
Named Batumi Stadium, the sporting ground will be situated on eight hectares of land near a former automobile assembly factory.
The project authors are the Turkish architecture company Bahadir Kul Architects.
The cost of the project is up to GEL 100 million. Parking for 1200 cars will also be arranged near the stadium.
At this stage, armament and concrete works are in progress and construction of stalls will commence shortly. Metal constructions, including the roofing of the stadium, will be erected from September.
According to Bakhtadze, the project will enable Georgia to host key-note events in Batumi, adding it is significant not only for sports tournaments but also for the attraction of more tourists to the city and region.
"We have considerable plans in stock to ensure the urban development of Batumi and to introduce European standards. A stadium is an essential landmark of any successful European city. Hence, we will be routinely monitoring the process to ensure the timely completion of the project" stated the prime minister.
The international standards football stadium currently employs over 200 people. The number of jobs at the site will rise to 250 from September when works enter into more intense phase. Overall, 500 jobs will be created during the whole construction process.