Tbilisi City Hall to Renovate Metro Stations
By Tea Mariamidze
Thursday, January 17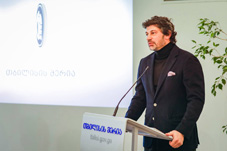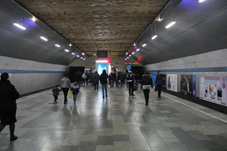 Tbilisi City Hall will present a new project for the rehabilitation of metro Varketili, where the ceiling collapse injured 18 people on December 30, 2018.
The information was released by Mayor Kakha Kaladze on January 16, adding a new project is necessary as the existing one does not fit safety norms.
"As a result of our expert-research work, it was established that the project does not meet the safety norms because of the existing constructions there. We were told that the project was faulty and we need to start working on a new one," the mayor said.
He noted that the priority is high quality and not the fast implementation of works there.
"I apologize to the passengers…The project will be ready soon and then we will start rehabilitation works," he added.
The Mayor also talked about the other metro stations. According to him, rehabilitation works of metro station Guramishvili will be taken to a new stage.
"There was a similar situation here, the project was rejected. We will implement the new project and the rehabilitation works will start there later, "Kaladze said.
He added that currently, the Samgori metro station is under renovation and so is Avlabari metro station.
"Rehabilitation works of metro station Avlabari will be completed by February 20 and the renovated metro station will resume working. Also, a tender has been announced on the design of all three exits of the metro Station Square, "Kaladze said.
The Mayor announced that a tender will be announced for the renovation of Gotsiridze, Isani, Freedom Square, Rustaveli, Marjanishvili and Tsereteli metro stations this year.
Kaladze added that Tbilisi public bus fleet will be completely renewed in 2019, meaning that all existing yellow buses will be replaced with new ones, which will be more comfortable and environment-friendly.