Interview with the head of the Germany-South Caucasus Friendship Group of German Bundestag
By Levan Abramishvili
Wednesday, May 22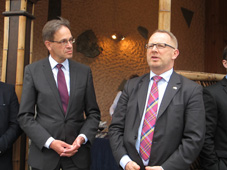 On May 20, the ambassador of Germany to Georgia, H.E. Hubert Knirsch, held a reception at his residence to welcome the members of the Germany-South Caucasus Friendship Group of German Bundestag, the German federal parliament.
The Messenger
spoke with the ambassador about the importance of the inter-parliamentary relationship between Germany and Georgia.
ďThe visit of the German-Georgian friendship group in the German Parliament is a good example of inter-parliamentary cooperation that exists. These politicians want to be advocates for Georgia in the German parliament, which is important in many situations. Mr. Kahrs, the head of the delegation, has been coming back to Georgia since 1999, so he knows the country very well. He told me how impressed he is with the development that Georgia has made in these 20 years. He wants to bring this impression and the arguments that he hears here in Tbilisi back to the German Parliament,Ē said H.E. Hubert Knirsch.
The Messenger
interviewed Mr. Johannes Kahrs, the head of the parliamentary group and the delegation about the development of Georgia, upcoming Tbilisi Pride, and the prospects of the country.
What is the significance of the parliamentary groups for the cooperation between the two countries?
I think these parliamentary groups are like ambassadors in our parliament. We are friends of this country in Germany. Whenever there are problems in Georgia, people come and talk to us, and we try to find solutions. This friendship goes both ways. Thereís a friendship group here in the Georgian parliament also.
This is not your first time in Georgia, how has the situation changed over the years since 1999, when you first visited the country?
I think itís very nice, because when you see Georgia every year or every second year, then you can see how much has changed when you live here, you don't see the development the same way.
I think the people of Georgia did a tremendous job, no matter which government was in power, in the end, you developed the country, and you can be proud of it. You did what you could and got a great result.
Usually, there were not many tourists here, but now many people come to Georgia as tourists from Europe and all over the world. My mother, who is 76, came here last year and was delighted. You have many young people coming because this is an up-and-coming tourist attraction. I think this is very good because people get to know Georgia. It's not just the wine, and itís not just the history, itís not only the black sea and the skiing, but the mixture of everything that makes Georgia interesting to others.
What is the main thing youíve noticed to change over the years in Georgia?
I think people are getting more and more open, itís something we didn't see before. This time we lobbied a lot with the head of your parliament and our colleagues, as well as with everyone we've met to give the upcoming Pride a chance in June.
I've been to the first Pride in Romania and Bulgaria and one of my colleagues went to Kiev for the first Pride. The first one in always awful; there are policemen around the people attending Pride and around the police there are a lot of people who are against it, but after 4 or 5 years it gets normalized.
The society is changing. Even if the church or anyone else doesn't like it. The pride isn't everything. But itís a symbol that the times are changing. I have been to Tel Aviv, a few years ago you couldn't even talk about it, but now there's a Pride of Tel Aviv with hundreds of thousands of people attending from Austria, Germany, Canada and all over the world.
What did you discuss about the upcoming Pride with your Georgian colleagues?
I told all of our colleagues to not make it out of the city in the wilderness but in the center. In Germany, only one third or half of the Pride attendees are gay or lesbian, the rest are there because they want to have a good time because it's the biggest party in town.
[Pride] is always good for the spirit of the city, because itís a sign that the city is getting more liberal and accepting. It will certainly change the city. Some people might hate this change, but, in the long run, Tbilisi will profit from it. When it gets more liberal, more colorful, more open it is usually a good thing. If you want people coming here, for example, to build up a factory, or to export goods from the US, India, Germany, Europe, you need to get used to the fact that some of them might be gays or lesbians.
Whatís the significance of Tbilisi Pride for Georgiaís European integration?
It's a good thing for society. Even if you don't like it, you have to accept that others love it and like it. If you want to have tourists, foreign capital, people coming to build factories and if you want to be a part of the European Union, like it or not, that's part of it.
You can't just pick all the cherries you like and leave o1ut the rest. For me, a Pride is a cherry. Pride is a cherry for me if you don't like my cherry, I don't like you. But I have to accept that some other people want to have their day for whatever they like. I don't have to go there, but I have to totally accept that they like it and want to celebrate it, and that's whatís called tolerance. Georgia is getting there step by step. You can't expect wonders. I talked with the ambassador and he totally agrees. The first time won't be easy but it has to happen. We suggested to make it in the central street, to let them have a party.
Georgia has Russia on one side, Armenia, Azerbaijan and Turkey all around it. It's not an easy position to be in. And having the occupied territories isn't easy either. But you can sit there and be angry and sad, or do something about it.
I think thatís the spirit that everybody sees in Europe. We have bad days, we have countries that go up and down and we have right-wing parties coming up and going down. It's never boring in politics. Sometimes it gets frustrating, you can be sad, angry or happy, but, in the end, it develops and young people are the motor of this development. Itís the new generation that has to push forward.
The first ever Pride week will take place in Tbilisi on June 18-23.